Photographer: Scott McClurg
Camera: Nikon D1X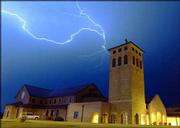 Lens: 17mm
Aperture: f4
ISO: 125
Shutter: 4-second exposure
For this picture capturing the lighting display during a storm that flooded Lawrence, I drove out to Corpus Christi Catholic Church to use the building as a foreground. When shooting lightning, it isn't enough to just point your camera skyward and get bolts of lightning; you need something to give it perspective. I used the church because it is about as close to the edge of Lawrence as possible and has some interesting architecture.
I attached the camera to a clamp that I mounted on my car and shot this frame with a 4-second exposure. Usually, you use much longer exposures to try to capture more lightning bolts, but most digital cameras don't fare well with anything longer than a couple of seconds. Not to mention the lightning was so plentiful that longer exposures weren't really needed. So, to improvise, I shot dozens of frames hoping to get lucky and catch a bolt.
I exposed for the church to be just a little dark and let the lightning bring in the rest of the light. Once I saw that I had captured this picture, I moved on and tried a different location. I ended up using this frame because the lightning filled up just the spot I was hoping for and worked really well.
Copyright 2018 The Lawrence Journal-World. All rights reserved. This material may not be published, broadcast, rewritten or redistributed. We strive to uphold our values for every story published.