New York — By all rights, Svetlana Kuznetsova should have been a cycling standout: Her brother and parents all won or coached others to Olympic medals and world titles in that sport. Kuznetsova gave it a shot, hated it, and moved on to tennis.
What a brilliant career move. Still just 19, with braces on her teeth, she's the U.S. Open champion, the third straight Russian woman to win a major.
Pounding ferocious forehands and covering the baseline with the muscular legs of a Tour de France rider, Kuznetsova overwhelmed Elena Dementieva, 6-3, 7-5, Saturday night in the American Grand Slam's first all-Russian final.
As of four months ago, no Russian woman ever won a major, but Anastasia Myskina beat Dementieva in the French Open final, and Maria Sharapova won Wimbledon. Russians occupy half of the top 10 spots in the rankings.
"Russia is just a powerful country," said Kuznetsova, the youngest Open champion since Serena Williams was 17 in 1999.
Until now, Kuznetsova probably was the least-known of her country's crop of rising players, instead most famous for being Martina Navratilova's former doubles partner. They won five titles as a pair and were the runners-up at the 2003 Open.
How anonymous is Kuznetsova? After a practice session 11/2 hours before the match, she walked across the National Tennis Center grounds without getting asked for autographs or photos. She might as well have been another fan in a gray sweatshirt, milling around, waiting for the U.S. Open final to start.
Indeed, during the on-court trophy presentation after the match, U.S. Tennis Assn. president Alan Schwartz mispronounced her name before correcting himself.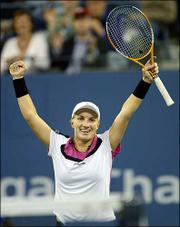 Saturday evening began on a somber note, with 20,524 spectators joining in a moment of silence to remember victims of Sept. 11, 2001, and the recent terrorist attack at a school in Russia. Kuznetsova and Dementieva both wore black ribbons in memory of the hundreds of Russian victims, and they walked out from the locker room wearing blue baseball caps with "FDNY" and "NYPD" to honor New York's police and fire workers.
"It's a great day for me as a tennis player," Dementieva said. "It's a day to remember. You lost hundreds of people on Sept. 11, 2001 -- Sept. 1, 2004, we lost hundreds of children."
Copyright 2018 The Associated Press. All rights reserved. This material may not be published, broadcast, rewritten or redistributed. We strive to uphold our values for every story published.