Fort Lauderdale, Fla — Hurricane Ivan, aiming at the Caymans and Cuba with calamitous Category 5 force, took an unexpected jog to the west on Saturday, allowing South Florida, and much of the rest of the state, to exhale.
While residents were told to remain vigilant, the ferocious storm was forecast to angle northwest into the Gulf of Mexico, far enough away that South Florida should escape previously-feared hurricane or tropical storm conditions, forecasters said.
Under the current projection, South Florida might see some gusts to 40 mph and 1 to 2 inches of rain, starting tonight and through Monday, said meteorologist Jim Lushine, of the National Weather Service in Miami. By Monday night, the worst should be over.
"All the severe weather should stay west," he said. "It should be a relative non-event here, a breezy weekend and possibly a wet Monday."
Ivan's top winds exploded to 165 mph on Saturday evening as it crawled across the central Caribbean, making it the strongest storm this year and a potential weapon of mass destruction if it hits land at that intensity.
In Florida, the Panhandle is most at risk. The forecast track has Ivan as a Category 4 with 132 mph winds making a potential landfall on Wednesday near Apalachicola. However, the future track might shift farther west, forecasters said.
As of Saturday, the state's entire east coast, including almost all of Lake Okeechobee, was no longer considered in the storm's potential path over the next three days. However, the lower Keys remained in the cone of error.
Most of Florida's Gulf Coast should escape the worst of Ivan, including Punta Gorda, which was devastated by Hurricane Charley last month. But the stretch of coastline from Tampa north could see some gusty winds and heavy rains because the system was expected to draw closer to land in that area.
Ivan was to be about 400 miles south of Miami by this morning. Late on Saturday, the system was 100 miles southeast of Grand Cayman, moving northwest at 9 mph.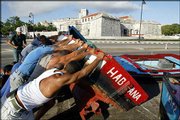 Hurricane warnings have been posted for both the Caymans and Cuba, which face not only Ivan's incredibly powerful winds but also 8 to 12 inches of rain, potential mudslides, flash floods and a storm surge of 20 to 25 feet above normal tide levels, forecasters said.
National radio urged Cubans living in vulnerable homes to find shelter in more stable buildings. More than 170,000 people across the island were evacuated by Saturday morning.
Maria del Carmen Jimenez, 33, prepared her home in the town of Santa Fe, near Havana, then planned to evacuate. Last month, Hurricane Charley damaged shingles on her roof.
"We are terrified," she said. "I have a little girl and I know this house will not sustain the winds."
At Cuba's Forecasting Center, meteorologist Miriam Llanes predicted the hurricane could make landfall in the Isle of Youth after midnight on Monday, and likely as a Category 5.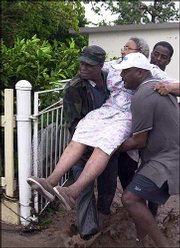 "It's an immense catastrophe," she said.
After building to a 155-mph buzz saw on Friday night, Ivan meandered just far enough south of Jamaica that the island escaped a direct hit from the worst winds -- though five were killed and the death toll could still be higher as damages have yet to be assessed.
A 10-year-old girl drowned in Old Harbor, just east of Kingston, and a woman was killed in the capital by a tree that struck here home, said Ronald Jackson of Jamaica's disaster relief agency. A man, a woman and a baby also drowned in Clarendon parish, just west of Kingston, according to reports.
The total death toll from Ivan across the Caribbean rose to 56, with most of those in Grenada, which was devastated by the storm on Tuesday.
Copyright 2018 The Lawrence Journal-World. All rights reserved. This material may not be published, broadcast, rewritten or redistributed. We strive to uphold our values for every story published.