Alma — While the Alma Cheese plant sat empty for close to five years, longtime employees Alvin Kahle and Jim Ferguson made weekly visits to check on the place and maybe do a little cleaning. The men wanted the plant to be in decent shape if it ever reopened.
"I didn't think they were ever going to get it opened up again," said Kahle, who has worked at Alma Cheese for 50-plus years. "The only way I saw it ever opening was if one person would buy it, and that one person was Bernie."
The "Bernie" Kahle was referring to is Bernie Hansen, a self-made Manhattan area entrepreneur who founded and developed such companies as Flint Hills Foods and Concept Foods, employing around 300 people in Alma.
As part of a defaulted bonds auction in October of 2003, Hansen bought the building and contents for $145,000. Hansen had previously owned the business for 14 years, but sold it to a group of local investors in 1998.
"I was surprised he bought it," said Kahle, who is semiretired. "He had his books with him, so I knew there might be a chance."
Hansen also recalls the day he reclaimed the Alma landmark.
"Alvin came up to me and asked me if I was going to buy it," Hansen said. "I said, 'I'll buy it if you'll work for me.' Alvin said, 'I'll do it."'
The renamed Alma Creamery reopened April 28, and after nearly four months in operation is rapidly regaining the reputation earned during five decades of business.
"I'll be honest, the first couple of batches (of cheese) were not really there," said Linda Craghead, Alma Creamery general manager. "So rather than roll out a product that is substandard, we wanted to make sure we were above what the customer expects. The product is good. It's beyond good. ... It's very good."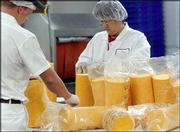 As in earlier days, the Alma Creamery is producing such favorites as cheddar, Monterey Jack, Colby, pepper jack, co-jack, American, mozzarella, provolone and Swiss cheeses. The plant is also producing the popular New York cheddar, which must age for nine months.
Craghead said the plant had revived its highly popular line of curds, which come in yellow. While the plant was being renovated, a smoker was installed, which allowed for the development of a new line of smoked cheeses.
The Alma Creamery currently is processing cheese two days a week. Kahle and Ferguson, who has worked at the plant for more than 30 years, head up the processing phase of the business. Kahle works about 20 hours a week. Together, the two men have nearly 85 years of cheese-making experience.
"I wanted to help it get going," Kahle said.
Hansen said the voluntary care Kahle and Ferguson gave the plant while it was shut down made it easier to get back in operation.
"You just don't hear talk about employees like that much anymore," Hansen said. "You have to worry about some employees coming back to work. This is the exact opposite. Just the fact all we needed to do was bring it (plant) up to condition tells the story."
Arlan Miller, who has worked for Hansen since the 1980s, is the plant operations manager.
After Hansen bought the plant and hired staff, they did a tour of the building with the state's chief dairy inspector, George Blush. Blush compiled a list of needed repairs and replacements.
"We asked him, if we could run it tomorrow, what would we need to do?" Craghead said. "Bernie's philosophy is to do it right."
Craghead said about $400,000 was spent renovating the plant. That includes all-new wiring, new floors, glass boards on ceilings and walls for food safety, replacing motors and pumps, and refueling the refrigeration systems.
"It's the same shell with a whole new system on the inside," Craghead said.
Craghead said the original intent was to open the plant using the original pasteurizing machine, which is vital to the system.
"We started it up on a slow pace with just water running through it ,and it did fine," Craghead said. "When we got it really cranked up, it decided to retire."
The pasteurizer was so old there were no replacement parts for it. So the options were to have parts fabricated or buy a new machine. A new pasteurizer was ordered, which delayed the opening of the plant by nearly two months.
Kahle said the main difference between now and the old days is the emphasis placed on food safety.
"The biggest change is running tests on the milk," Kahle said. "It used to be we didn't have to run those tests at all."
Most of the cheese-making process remains unchanged. Dairy trucks unload milk into huge storage silos at the north end of the plant. After the milk is pasteurized, it goes into huge vats where at a certain point the curd grains are allowed to fall to the bottom, leaving a liquid referred to as whey. The whey is drained off and the curd grains are allowed to mat together to form large slabs of curd. The curds are then milled, flavored, molded, pressed and stored in refrigerated units for aging, or packaged for sale.
Since the Alma Creamery reopened, customers have stopped in from nearly every state and from such foreign countries as Taiwan, Russia and Egypt.
"It has really been rewarding," Hansen said. "It tells you how strong that brand is on the product. Before we opened, we had people calling here all the time asking when were going to open. It's been going great. This time we are working directly with the farmers."

Craghead said a billboard near the highway exit for Alma has drawn in a few customers. It is a scenic trek of just three miles off Interstate 70 to get to the picturesque little town of Alma.
When Alma Cheese was at its peak, the business had built a retail network of around 600 stores. Distribution of the product is not as easy today because many major grocery store chains now use centralized buying and it is hard to introduce new products into these markets.
Craghead said a food distributor out of Emporia got the Alma Cheese products into some Food 4 Less stores. She said plans are in the works to meet with officials with the Dillons and Price Chopper grocery store chains.
The Alma Creamery is also developing new items such as a line of "carb-free" products. A couple other ideas are still in the research phase. Another popular item that has been brought back are the Christmas gift boxes.
For now, the best way to buy Alma Cheese is to go to the creamery in Alma or order by phone, (866) 765-3522.
Hansen's other Alma business -- Concept Foods Inc. -- underwent a $10 million expansion in late 2003, and the Alma Creamery may be headed in the same direction.
"I'm already thinking about it because the reception has been so good on the product," Hansen said. "I think we'll need to expand the thing. It's still amazing how strong the brand is."
Copyright 2018 The Lawrence Journal-World. All rights reserved. This material may not be published, broadcast, rewritten or redistributed. We strive to uphold our values for every story published.