Bruce Gradkowski was the quarterback who came into Saturday night's game with all the accolades, but it was Kansas University's Adam Barmann who left Memorial Stadium celebrating a victory.
Gradkowski ranked second in the nation last season when he completed 71.2 percent of his passes for Toledo, and the junior was being promoted as a candidate for the Heisman Trophy and the Davey O'Brien Award this fall.
Gradkowski will have little chance at either of those prestigious honors after becoming the second highly touted quarterback to be dominated by Kansas University's revamped defense in two weeks.
KU, which shut down Tulsa's James Kilian last week in the season opener, intercepted Gradkowski twice and recovered two of his fumbles in a 63-14 victory.
"Our defense is playing with confidence and playing very physical," said KU coach Mark Mangino, whose team started the season 2-0 for the first time since 1997. "They're confident in what they can do, and they should be. I think they've done some good things the last two weeks. We've played against two really good quarterbacks the last two weeks that have gotten some national acclaim."
Gradkowski completed 15 of 28 passes for 215 yards and two touchdowns, but his four turnovers proved costly.
Barmann, who set KU freshman records last season when he passed for 294 yards and four touchdowns in his collegiate debut at Texas A&M;, established a Kansas sophomore record by passing for 310 yards against Toledo.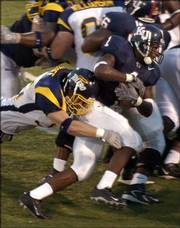 Barmann had struggled in KU's 21-3, season-opening victory against Tulsa, completing 14 of 31 passes for 99 yards with an interception and one TD. Against Toledo, he completed 20 of 24 passes in the first half and finished 24-of-34.
"Adam looked sharp," Mangino said. "This is a good game for him to build on. ... He was a lot more comfortable. He's always a confident guy, but he looked like he was in control."
Barmann tied his career high in the first half when he tossed four touchdown passes, connecting with receivers Mark Simmons, Brandon Rideau, Gary Heaggans and tailback John Randle.
"I don't get caught up too much in stats," Barmann said. "I just try to go and play the best I can and try to get the ball to Mark, Brandon and Gary and let them run with it or drop it off to John. I threw a five-yard pass to Randle, and he ran 55 yards. I can't take credit for that."
Randle rushed for 104 yards and two touchdowns on 19 carries in his first start. The sophomore also caught three passes for 79 yards, including a 55-yard TD.
"We were really explosive tonight," Randle said. "Adam stayed poised, and the offensive line protected him. He can throw, so that opens up everything."
It helped that KU's defense and special teams continually gave KU a short field in the first half. The Jayhawks scored on six of their first seven possessions. Three of those drives started in Toledo territory, and the Jayhawks' worst starting field position during that stretch was their own 40-yard line.
"That's huge for us when we can get the ball on their side of the 50," Barmann said. "That's unbelievable. Playing on a short field like that definitely gives your offense confidence, knowing you only have to go 45 or 50 yards instead of 85."
Linebacker Nick Reid and safety Tony Stubbs set up KU scoring drives with first-half interceptions, and defensive end Charlton Keith returned a Gradkowski fumble 21 yards for a touchdown.
The Jayhawks led 42-7 at halftime.
"We had too many errors -- such as fumbles, tipped balls that were intercepted -- and those kinds of plays give teams the opportunity to score a lot of points in a short amount of time," said Toledo coach Tom Amstutz, whose team suffered a 63-21 loss to Sept. 4 at Minnesota.
The Jayhawks finished with 501 total yards -- a 300-yard improvement from the season opener. The Rockets mustered just 64 rushing yards, and KU's defense put pressure on the opposing quarterback again -- ends Jermial Ashley and Greg Tyree each had sacks -- and limited the Rockets to 298 total yards.
"The defensive line played great and got pressure on him," said cornerback Charles Gordon, who broke up a pass near the goal line and also had two tackles. "That was key -- him not having time to stand back there and throw."
How to rout Toledo
¢ KU lost a fumble and threw 1 interception; Toledo lost 3 of 5 fumbles and threw 2 interceptions. ¢ Kansas averaged 6.5 yards per play and 4.2 yards per rush.
Toledo (0-2) was the preseason favorite in the Mid-American Conference West after winning eight games last season, while many preseason publications picked the Jayhawks to finish near the bottom of the Big 12 North.
Mangino wasn't worried about his team getting cocky heading into Saturday's game at Northwestern.
"One of the reasons we're 2-0 is our kids are hungry," he said. "They sat around all summer and read all the Web sites about how lousy they were, and they read all the newspapers and magazines about how lousy they were. Our kids are hungry. They want to play, and they want to be successful."
Copyright 2018 The Lawrence Journal-World. All rights reserved. This material may not be published, broadcast, rewritten or redistributed. We strive to uphold our values for every story published.