Birthday parties are important celebrations, so it is hard to accept that even as late as the 19th century, most people in the world did not even know the date of their birth and did not celebrate birthdays.
The average person might have had a birthday party after about 1850. A few commercial birthday cards were sold in England at that time. A birthday party included a cake, but not one with candles and decorations, like those seen today. Popular 19th-century children's games were played at parties, including musical chairs, Pin the Tail on the Donkey, blindman's bluff or tag. The game of Pin the Tail on the Donkey has been popular in many forms throughout the years and is still played at parties.
Printed fabrics with a donkey and many tails to cut out were made by the 1890s. Another version was Piggy Party, which featured a pig holding a basket that had to be pinned in place. Foxy Grandpa pictured a man who wore a bowler hat that was pinned on his head. Cinderella Party was a fabric showing Cinderella and 15 shoes that could be pinned on.
An 1898 game, The Monkey Donation Party Game, was played with a piece of fabric decorated with a woodblock print of a monkey holding his cap. The cap was cut from the bottom of the fabric and stitched to the monkey's hand. Children had to put a penny in the cap just as they would with a real organ grinder's monkey. All old printed fabrics that were cut to create children's games or dolls are collected today. Prices range from $50 to hundreds of dollars for rarities.
I am interested in learning the history of my white-oak double-pedestal table. My father and I bought it about 40 years ago for $4. We spent months making it presentable, and we just recently had it professionally restored. There is a nameplate under the tabletop that reads "Flint's Fine Tables, Flint & Horner Co. Inc. New York (founded 1840)." The restorer found that the pedestals are intricately carved and have inset plaster decorations around the top. The table has two permanent leaves under the tabletop that can be pulled out to extend the length to 8 feet.
Flint & Horner advertised that its business was founded in 1840. That was the year Henry Bruner opened a furniture business in New York City that was purchased about 1891 by George C. Flint. Flint's business merged with R.J. Horner & Co. about 1914 and was renamed Flint & Horner. It was a New York retail store until at least the 1930s, and it had a reputation for selling high-quality furniture. Your restored table, manufactured after 1914, is worth more than $4 today.
I found a tin advertising sign in an Alaska dump in 1967 or so. It is 36 by 24 inches and mounted in a wooden frame. The background is bright yellow with a large red circle in the center. The ad is in black lettering, and reads "For Livestock, Get Happy Feeds in Red Ball Bags for Poultry." What can you tell me?
Happy Feeds Co. was in business during the 1930s. Old advertising is popular with collectors. Take care of your sign. Store it away from moisture and bright sunlight.
About 50 years ago, I purchased a pottery water pitcher with a handle in the shape of a nude woman. The shiny pitcher and handle are glazed a peachy cream color. The bottom is signed "Dorothy Kindell." Is the pitcher worth much?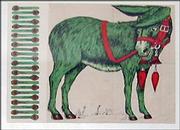 Dorothy Kindell was working in Laguna Beach, Calif., in the 1940s and '50s. Pieces signed with her name include household and giftware items, but she is best-known for a line that collectors call "naughty nudes" or "strippers." These pieces, including mugs, champagne glasses and a water pitcher, feature nude or partially nude women as handles or stems. The pitcher sells for $200 to $400.
My father carried a silk "escape map" when he was a stationed in Europe during World War II. We still have the map, which is about 34 by 31 inches and printed on both sides. Each side shows different escape routes, one side in blue and the other in red, through various countries, including Germany, Poland, Hungary, Italy and Switzerland. For many years, the map has been folded and stored in my father's military pouch. Can you give us any information about the map?
Much research has been done on fabric escape maps included in the military pouches of many Allied forces during World War II. The maps were printed on silk because they didn't rustle, could be hidden easily and withstood wear. The idea of silk maps was developed by British Military Intelligence and later adopted by Americans. Hundreds of thousands of escape maps were printed during the war. Your father's map was designed to help an escaping prisoner of war get out of territory occupied by Germany. You can learn much more about your own map by checking for names and marks along the edges and in the legend. Then go on the Internet or to your library and do some research. You can find out who printed your map and which branch of the military distributed it.
Tip
When you go on vacation, lower the volume of your telephone ringer so it can't be heard by would-be thieves who wonder if you are home.
Current prices are recorded from antiques shows, flea markets, sales and auctions throughout the United States. Prices vary in different locations because of local economic conditions.¢ Nestle advertising doll, Little Hans, fabric, stuffed, c. 1970, 13 inches, $50.¢ Greedy Pup tin windup toy, eats candy balls, Japan, 1950s, box, $155.¢ Mt. Washington Crown Milano basket, opal glass, interior design with pansies, fitted metal rim and handle, signed, 6 1/2 x 5 inches, $225.¢ Tiffany & Co. sterling-silver fish serving knife and tablespoon, St. Dunstan pattern, c. 1909, 11 inches and 6 inches, $395.¢ Andrew Johnson impeachment ticket, to U.S. Senate gallery for April 21, 1868, cardboard, 5 inches, $800.¢ Yellow Taxi Co. advertising mirror, celluloid, 3333 Cadillac, yellow ground, black-and-gold taxi, "Lowest rates in Detroit," 3 inches, $1,265.
Copyright 2018 The Lawrence Journal-World. All rights reserved. This material may not be published, broadcast, rewritten or redistributed. We strive to uphold our values for every story published.