Kingston, Jamaica — Twenty-three-foot waves crashed ashore in Jamaica, a wave of panic buying swept Havana and the Florida Keys depopulated itself Friday -- the residents of three diverse nations simultaneously terrified by a ferocious Hurricane Ivan.
Forecasters said the storm still posed significant danger to Florida and likely will pass over or close to the Keys early next week before reaching the mainland, possibly along the Gulf Coast. South Florida's weather could begin deteriorating Sunday.
The storm's death toll so far is 37, and it is virtually certain to rise.
Ivan, a Category 4 hurricane -- out of a top scale of 5 -- packed winds of 145 mph. Even before the arrival early today in Jamaica of Ivan's catastrophic eye wall, overflowing rivers washed away homes, waist-high water flooded neighborhoods, and boulders, tree branches and other debris blocked the main road to the airport.
Power blackouts cascaded through nearly the entire island. Ocean waves rolled through many seaside streets. The Hilton in New Kingston barricaded guests behind doors covered with plywood.
"This is going to be bad, bad, bad," said Roxanne Dyht of Helshire Beach.
Said her friend, Karen Nelson: "I am afraid."
Much worse was to follow, and Prime Minister P.J. Patterson issued one last plea before everyone huddled wherever they could find shelter: "Residents leaving near coastal areas must evacuate, before it is too late."
But many resisted, saying they feared looters nearly as much as Ivan.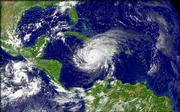 In Cuba, long lines formed at supermarkets and gas stations as residents searched for essential provisions. Ivan's wind and rain were expected there this morning, its core drilling the island's west-central coast and possibly moving right through Havana.
"There is panic," one resident of Havana told The Miami Herald on Friday. "People are buying whatever food where they can find it."
Cuba declared a hurricane watch across the entire island Friday after its leader, Fidel Castro, went on national television warning residents to brace themselves. "Whatever the hurricane does, we will all work together" to rebuild, he said.
In the Keys, vacation hideaways and fishing villages were transformed into ghost towns and boarded-up bunkers. Even the generally steadfast denizens of the islands demonstrated their respect for Hurricane Ivan -- many got out of the way.
Thousands of residents and tourists streamed off the 120-mile chain in what officials called a remarkably comprehensive, and thus far smooth, evacuation.
The banner headline on Friday's Key West Citizen: "OUTTA HERE"
"I don't think it's going to get to Texas," said Woody Woodward, 76, a longtime resident of Key Largo. That's where he and his wife were headed -- Texas.
Forecasts consistently predicted that Ivan's destructive core could pass very close to -- possibly right through -- Key West around midday Monday and make landfall on the mainland later Monday or Tuesday, possibly along the Gulf Coast.
Even if Ivan's core heads in that direction, outlying wind and rain will arrive in Miami-Dade and Broward counties by Sunday, forecasters said, with tropical-storm force winds likely to follow by midday Monday.
With south Florida possibly sitting on the strong, right side of the core, heavy rain and tornadoes could affect the area, they said.
So many people around the state, the nation and the world were tracking Ivan that the National Hurricane Center's Web site -- www.nhc.noaa.gov -- registered 7,500 hits per second.
Copyright 2018 The Lawrence Journal-World. All rights reserved. This material may not be published, broadcast, rewritten or redistributed. We strive to uphold our values for every story published.