Baltimore — Staked with a 7-0 lead and feeling raindrops on the bill of his cap, Johan Santana became intent upon beating the weather -- along with the Baltimore Orioles.
He succeeded at both.
Santana pitched seven innings of five-hit ball for his 10th straight victory, and Matt LeCroy homered in a seven-run second inning that provided the Minnesota Twins an early cushion in a 9-0 rout Wednesday night.
Santana (17-6) struck out nine and walked none before leaving with a 9-0 lead. He is unbeaten in 11 starts since July 11 and has a 1.38 earned-run average since the All-Star break.
The Orioles sold 19,358 tickets for the game, but because rain swept through the area during the day and continued into the early evening, only a few thousand fans were on hand to watch Santana turn in another masterful performance.
After the Twins took control in the second, the left-hander was virtually assured the win -- barring a rainout.
"I was trying to work quick, because in the third inning I saw a little rain coming, and I don't want the game to stay like that and be gone, and not get a chance to win," he said.
The shower quickly subsided, but Santana never let up. He did not allow a runner past second base and had at least one strikeout in the second through seventh innings.
"He has an excellent changeup, great fastball, good slider. That's a pretty good combination," Baltimore's David Segui said.
"That's one of best lefties I've ever faced. His changeup -- even if you sit on it and get it -- the action on it is pretty impressive."
Segui and Miguel Tejada both had two hits for the Orioles, who didn't have a base-runner until the fifth inning.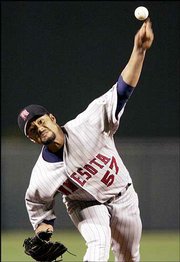 "It's not like I scalded the ball or anything," Segui said.
Santana got more than enough offensive support from his teammates, who reached double figures in hits (12) for the first time in seven games. Justin Morneau and Torii Hunter had three hits apiece, and LeCroy drove in three runs for the Twins, headed to their third straight AL Central title.
White Sox 5, Rangers 2
Arlington, Texas -- Carlos Lee hit a tiebreaking RBI single in Chicago's four-run sixth, and Freddy Garcia pitched five solid innings in his first start in more than two weeks.
Ben Davis homered, and Timo Perez hit a two-run double for the White Sox. Garcia (11-10) allowed one run and three hits in his first start since Aug. 22, when he developed tightness in his right forearm.
Blue Jays 1, Angels 0
Anaheim, Calif. -- Justin Miller allowed two hits over eight innings to outpitch Kelvim Escobar.
Miller (3-3) retired his first 11 batters before Vladimir Guerrero lined a single to right with two outs in the fourth. Anaheim's other hit was a one-out single in the eighth by Adam Kennedy.
Miller struck out three and walked one in his longest outing of the season.
Escobar (9-10) allowed a run and five hits in eight innings and set a career high with 12 strikeouts.
Red Sox 8, Athletics 3
Oakland, Calif. -- Pedro Martinez pitched six innings of two-hit ball to win his third straight start.
Martinez (16-5) improved to 5-1 with a 1.25 ERA in seven regular-season starts in the Coliseum, and Tim Hudson lost for the first time in 10 home starts.
Keith Foulke, Oakland's closer last season, entered and retired Billy McMillon for his 28th save in 33 chances.
Indians 9, Mariners 5
Seattle -- Ronnie Belliard hit a three-run homer in the fourth inning.
Seattle's Ichiro Suzuki went 1-for-5 to extend his hitting streak to 13 games and moved within 30 hits of tying George Sisler's single-season major-league record of 257 hits. He has 24 games to tie Sisler's mark, set in 1920 with the St. Louis Browns.
Tampa, Yankees ppd
New York -- The doubleheader between the Tampa Bay Devil Rays and New York Yankees was postponed because of rain. The teams are slated to play a doubleheader today.
Copyright 2018 The Associated Press. All rights reserved. This material may not be published, broadcast, rewritten or redistributed. We strive to uphold our values for every story published.