Lawrence Police and the FBI are searching for a man who robbed a Lawrence bank Wednesday -- without brandishing a weapon.
The robbery happened about 3:25 p.m. when the man walked into Emprise Bank, 2435 Iowa, demanded money from a teller, took an undisclosed amount of money and fled on foot to the south, said Sgt. Dan Ward, a spokesman for Lawrence Police.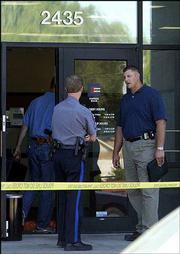 Employees described the robber as a white male, 50 to 60 years old, about six feet tall and 185 pounds with graying hair. He was wearing a baseball cap, aviator-style sunglasses, a long-sleeved T-shirt and jeans, police said.
FBI officials couldn't be reached Wednesday for comment about whether it fit the description of other bank robberies. Ward said it didn't immediately appear to be related to any previous Lawrence cases.
"It's too early to tell. We haven't had any bank robberies in a while," he said.
The last one happened in December, when a surveillance camera captured a crystal-clear image of an armed robber's face at University National Bank, 1400 Kasold Drive. FBI agents later arrested former Kansas University student Jeffrey R. Cox in connection with that robbery and two others in Lawrence.
Emprise Bank officials said Wednesday they were so impressed by the photos that led to Cox's arrest that they bought the same surveillance system. But photos released by police Wednesday weren't as detailed as those captured in the University National robbery.
Officers canvassed gasoline stations and shops in the area in the minutes after the robbery -- for example, taking a surveillance-video tape from Tobacco Express, 2104 W. 25th St.
Police are asking that anyone with information about the robbery to contact the Lawrence Police Department Detective Division at 830-7430 or the Crime Stoppers Tips hot line at 843-TIPS.
Copyright 2018 The Lawrence Journal-World. All rights reserved. This material may not be published, broadcast, rewritten or redistributed. We strive to uphold our values for every story published.