After the performance junior linebacker Kevin Kane turned in Saturday night in Kansas University's 21-3 victory over Tulsa, it's hard to believe he was the butt of teammates' jokes in the locker room.
Kane's night included five tackles -- including a sack -- a pass breakup and a fourth-quarter interception that sealed KU's opening-night triumph. Despite his best single-game effort as a Jayhawk, Kane's teammates and coaches would not let him forget being stopped two yards shy of his first touchdown.
"I think I was enjoying the scenery out there, just taking my time," Kane said of his 18-yard interception return. "I guess mentally I just act like I'm running faster. My eyes were pretty big. I knew I was going to get greedy. It was a good feeling, but at the same time I knew I was going to catch a bunch of flak from everyone else."
When his coaches put all humor aside, they quickly point out how fundamentally sound Kane's effort was on the pick.
"We got on him a little bit, but we were really happy he hopped on the ball, put it in his outside arm and got as close to the goal line as he could get," defensive coordinator Bill Young said.
Kane earned all-state, all-metro and all-district selections his junior and senior years at KC Rockhurst High School, but was relegated to a backup role in his first two seasons at Kansas. Kane made the most of his opportunities as a reserve and -- even though it was down-played after the Tulsa game by Mangino -- earned a spot as a starter for the season opener.
Last season, the lone bright spot on Kansas' shoddy defense was its superb linebacker corps of Nick Reid, Gabriel Toomey and Banks Floodman. But now, Kane has made it a four-man rotation, which lets Mangino and Young keep fresh legs on the field.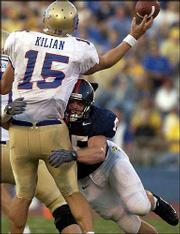 "I don't think it's ever been a trio, because Kevin's always played a role," Toomey said. "I'm not surprised at all. Kevin Kane's a great player, a smart player. He got his chance, and he showed up."
Kane got his chance because of extensive reps with the first-team defense last spring and in training camp this summer. Toomey was held out of most of the action while recovering from surgery for an undisclosed injury. The extra preparation time gave Kane all the chances he needed to earn his spot in the rotation.
"I was just thinking that if I get an opportunity, I'll make the most of it," Kane said. "With certain injuries, I had my opportunity. I thought I was just as good as all those other guys, and I knew I could play."
All the build-up led to Kane's 2004 debut, which was highlighted by one particular series.
Kansas led 14-3 when Tulsa took the ball at its own 20 yard line with 11:06 left. Kane sacked Tulsa quarterback James Kilian on first down for a loss of 11, recorded a tackle on second down and made the interception on the next play. The pick set up a one-yard touchdown plunge by KU quarterback Adam Barmann. That put the game out of reach.
Kane's performance might have surprised some fans, but it was no shock to the linebacker.
"I expected to do that a lot when I was coming in here as a freshman. It's all paying off, and it's a good feeling," Kane said. "Now it's just consistency -- doing it week in and week out. And with that I'll become a better player each week."
Copyright 2018 The Lawrence Journal-World. All rights reserved. This material may not be published, broadcast, rewritten or redistributed. We strive to uphold our values for every story published.