Just when Joyce Chaney thought she was getting her life back in order, a weekend fire destroyed her home and nearly all of her belongings.
"I lost it all," Chaney said Wednesday, as she stood outside the burned-out mobile home she'd lived in for five years at 101 Maine. "I got out with my shorts, shirt and flip-flops."
Chaney, 44, also still has her Chihuahua, Epi Jose. The dog was singed by the fire that broke out in the mobile home about 10 p.m. Saturday while Chaney and a friend, Tracey Garcia, were watching movies.
Garcia's dog, another Chihuahua, died in the fire.
"I feel really bad about that," Chaney said.
The fire started when a water heater malfunctioned, according to Lawrence-Douglas County Fire & Medical. Fire officials estimated total losses around $15,000. Chaney does not have insurance to cover her losses.
Not long before the fire, Chaney, who has been through financial difficulties and currently is jobless, was able to have the utilities turned back on.
Chaney said she first smelled smoke and something burning and thought it was a candle. When she checked, she discovered the fire in the bathroom at the back of the mobile home. She attempted to put it out with a fire extinguisher. A neighbor also trained a garden hose on the outside of the mobile home until firefighters arrived.
Neither Chaney nor Garcia were hurt. Chaney is now staying with a relative who lives in a mobile home next door.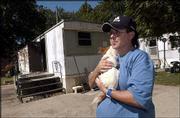 "I don't know what I'm going to do," she said. "I've never been through this before. I'm having to start my life all over."
Chaney has received some food and clothing from the Douglas County chapter of the American Red Cross. That assistance, however, meets only short-term needs.
Donations such as furniture, appliances or other items can be made to Joyce Chaney or through the Red Cross.The Red Cross asks that if you have something to donate, call its office first, at 843-3550.A list of items that are available will be provided to Chaney to see if she needs them, executive director Jane Blocher said.
Copyright 2017 The Lawrence Journal-World. All rights reserved. This material may not be published, broadcast, rewritten or redistributed. We strive to uphold our values for every story published.