Vancouver, British Columbia — During the Roy Williams era, I dutifully followed Kansas University's men's basketball team to Alaska and Hawaii, not to mention San Diego, New Orleans, Atlanta, Los Angeles, Portland, Ore., and even Grand Forks, N.D.
Until Labor Day weekend 2004, however, I never had ventured to another country to chronicle the on-court escapades of the Jayhawks, in this case Bill Self's Jayhawks.
In honor of my first overseas junket (in Canada's case, overland) since a high school trip to London, here in journal format are the highlights of my four days with KU's players and coaches and 400 Jayhawk fans in the land of Molson.
Friday, Sept. 3
Upon arrival at Vancouver International Airport, foreigners must appear before government officials.
Those folks -- always serious, especially in the wake of 9-11 -- inspect passports and/or birth certificates, and ask a few personal questions.
KU's basketball players, like other "normal" U.S. citizens, are required to stand in the line and eventually face a marshal.
"Did they ask you any questions when you went up to one of those stations?" I asked Aaron Miles, KU's senior guard from Portland.
"Actually, they did," Miles said, "but I thought they were just inquiring, holding conversation."
I didn't pry and ask Miles what inquiring Canadian minds wanted to know, but I will share my conversation with the deputy.
Q: "What are you doing in Canada?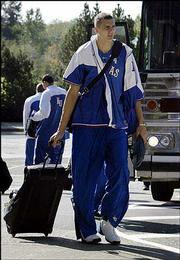 A: "Working for a newspaper, covering basketball games."
Q: "What newspaper? What games?"
A: "Lawrence Journal-World. Games between Kansas University and British Columbia and Langara, schools like that."
Q: "Are you going to bring back your computer?"
A: "Yes, unless I lose it."
No response. Lesson: Do not crack dumb jokes to those checking passports. Security is no laughing matter.
Apparently, those who drive, instead of fly, from the U.S. to Canada merely pull their cars up to a checkpoint and show a passport or driver's license. Ex-Jayhawk forward Nick Collison of the NBA's SuperSonics drove up from Seattle for one of the games.
"It was easy," he said. "We pretty much drove right through after a couple of minutes. I heard it takes a long time coming back. You have to show two picture IDs."
Saturday, Sept. 4
KU's first of four exhibition games was played at the University of British Columbia's War Memorial Gymnasium in Vancouver, a nice enough building that reminded me a little of the Rice University gym in Houston.
The gym seats 4,000 fans, much smaller than Allen Fieldhouse, but a lot larger than the high school gym in which KU was to play University College of Fraser Valley on Sunday night.
That gym in Abbotsford reminded me of the movie "Hoosiers" more than Jayhawks, Sooners and Tigers.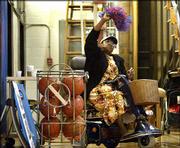 What I'll remember about this game -- an easy 82-51 KU victory -- was the impressive athletic performance of 6-foot-10 freshman C.J. Giles, who was credited with one blocked shot but probably had four or five.
He leaped especially high for one rejection, but was called for a foul on the play.
Bad call.
The NBA scout sitting next to me also was impressed and said Giles had a future in that league maybe sooner rather than later.
I also was impressed with Russell Robinson, who played with the savvy of a junior, not a freshman, in scoring 12 points with three assists in 18 minutes.
It goes without saying I was awed by the effort of senior Wayne Simien, who went for 24 points and 13 rebounds in 22 minutes.
As far as the home team, UBC had a 5-foot-3 player, dynamo Karlo Villanueva, who scored two points and had seven turnovers, overmatched a bit by Miles and Robinson.
One had to feel for KU freshman big man Sasha Kaun, who looked a bit nervous in missing three shots and committing two turnovers while grabbing five boards. Kaun showed his competitiveness 24 hours later, scoring 20 versus Langara.
I had to smile when nice guy/walk-on Christian Moody not only started the game, but put home a vicious follow dunk off a missed shot early in the game.
Folks, Moody has to be the best walk-on in the history of KU basketball.
Sunday, Sept. 5
This was a long day for everybody. KU copied major league baseball in the '60s with a Sunday doubleheader.
First up was a 101-46 laugher against Langara back at War Memorial Gym. Self played his freshmen this game, and they responded well, scoring 77 of KU's 101 points.
Kaun showed me a lot in battling back to pot 20 points. Darnell Jackson was a brute with 19. Also, Robinson continued to show his maturity in leading the team.
The best story of the day was Stephen Vinson, the walk-on out of Lawrence High who had eight assists and nine points.
I asked Vinson if he ever had that many assists in a game in high school.
"Actually, I averaged about that many," he said politely.
I couldn't help but feel great for Vinson getting to play 34 minutes for his dream school, KU. Only in Canada on doubleheader day could that happen, for KU is loaded at the guard position with scholarship players.
It also was nice to chat with Collison at the game. Friendly as always, Collison said he was ready to go following a pair of shoulder surgeries.
And, yes, he thinks he is eligible for rookie-of-the-year honors considering the fact he missed all of his true rookie season because of injury.
Then it was on to Abbotsford, a village 40 miles from Vancouver for the night game -- a 106-71 bruising of University College of Fraser Valley, a team that lost to UNLV, 103-62, earlier in the day.
The game was played at Mennonite Educational Institute's high school gym, which seats 1,400.
J.R. Giddens and Keith Langford exploded for 23 and 19 points in their first productive outings since undergoing offseason surgeries.
Giddens was named player of the game. He was surprised there even WAS a player of the game.
"The announcer said, 'J.R. Giddens scored 23,' and then they honored me. It was very nice. I appreciate it,'' said Giddens, who had a vicious dunk and a smooth, gliding move down the lane for a conventional layup that you had to see to believe.
Langford indicated his recovery from knee surgery had been slow -- he even has had stiffness in the other knee -- but said he would be ready when "it counts."
Self indicated after the game there was nothing structurally wrong with the surgically repaired right knee and that Langford would have to continue rehab and be patient as the regular season approaches. It'll be checked this week again to make sure another scope isn't needed.
Fans were scared when Simien was fouled hard by a 40-year-old Fraser Valley alumnus manning the pivot position. One could envision headlines all over the country had Simien been injured seriously by the old fella.
Not to worry. Simien picked himself up and was fine, as was Alex Galindo, who gave up his body twice fighting through screens and sprawling after a hustle play on defense.
Monday, Sept. 6
KU's Labor Day contest against Simon Fraser's Burnaby Mountain All-Stars was held in Burnaby, about 10 miles from Vancouver.
It turned out to be the closest game of the trip, a 98-76 KU victory.
It also was the only game in which the anthems "The Star Spangled Banner" and "O, Canada" were not sung by live artists, who thrilled the crowds with their majestic voices the first three games.
I'm serious -- the songs were performed impeccably.
Burnaby is up in the mountains. I saw deer running along the road next to the rental car at one point.
This game was the ugliest of the four -- the officials called it close after tempers flared in the first half.
Simien continued to amaze, scoring 25 points and hitting 12 of 14 shots. Also, the easy-to-root-for overachiever, Mike Lee, canned 17 points.
KU's freshmen continued to impress, notably Galindo, who hit six of eight shots and three of four threes.
This trip was all about KU's freshmen because the Jayhawk coaches wanting to integrate newcomers into what could be a national-championship-caliber team. The freshmen all showed flashes of brilliance.
In a nutshell, I can tell you ...
You will like Giles' ability to block shots violently. He needs to gain some weight, but NBA scouts are already drooling about his athleticism. He has a soft touch on his jumper.
You will like Jackson's big body and ability to rebound. He also has a surprisingly nice touch on his free throws.
You will like Kaun's hustle and left-handed hook shot. You'll like all three of KU's rookie big men, but you better not expect excellence every night because, like all rookies, they will be inconsistent.
As far as the perimeter freshmen ... you'll like Robinson's savvy, ability to push the basketball and run the point. And you'll like Galindo's sweet jump-shooting ability and smoothness when he does take it to the hole.
The freshmen surely will frustrate many on nights it's not there -- when balls are flipping off their hands out of bounds. But all five scholarship freshmen are keepers. I think that is a fact.
So summer basketball season is over. See you Oct. 15 -- if I made it back through the security checkpoint on Tuesday.


Copyright 2018 The Lawrence Journal-World. All rights reserved. This material may not be published, broadcast, rewritten or redistributed. We strive to uphold our values for every story published.