Brian Robb gets a special satisfaction driving old cars in weekend demolition derbies.
"I fix cars up all week, so it's nice to go out and tear them up on weekends," said Robb, of Perry, who works in an auto-repair garage.
But Robb had extra incentive for participating in Saturday's second annual Crashing for Kids Demolition Derby at the Douglas County 4-H Fairgrounds rodeo arena.
The derby was a benefit for the Douglas County Infant-Toddler Coordinating Council. The council provides services to infants and toddlers who have special needs. Robb's son receives some of that special assistance because he has chronic inner ear infections that affect his speech.
"He's worked with a speech therapist and he'll work with them until he goes to kindergarten," Robb said of his 4-year-old son, Mason. "He'll be in the stands, standing up watching, and he won't sit down the whole night."
Robb and his 1982 AMC Spirit were among about 100 drivers and their cars who participated in the derby. That is almost double the 60 cars that participated in last year's event, which raised $9,000.
Dena Bracciano coordinator for ICC, hoped this year's event would raise at least twice as much money.
"We're having a good crowd and we have great weather," Bracciano said late Saturday afternoon as lines formed for tickets at the arena gates.
Mike Martin and his wife, Toni, were among those waiting in line at a ticket booth.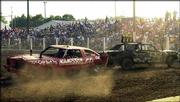 "I just like to watch the cars smash up, and it's all legal, too," Mike Martin said. "I've been watching KU students in fender-benders all week. Now this is for fun."
Although Mike Martin had been to other demolition derbies, it was a first for his wife.
"I'm excited about it," she said.
"She's here to see Don Harman," laughed her husband, referring to the Fox 4 News meteorologist who was a driver in the derby.
Harman drove in last year's ICC derby, which was his first ever. Saturday's derby was only his second.
"I just like to drive in one a year," Harman said. "I'm hoping to double my time this year."
Harman, who was driving a 1978 Buick LeSabre this year, said he lasted a little more than a minute in last year's derby.
"It's for a great cause," he said, of ICC. "They fill a niche. This is not just a demolition derby where you just watch a bunch of good-old boys smashing into each other. It has a purpose."
Results from the derby were not available late Saturday. It will be a few days before a determination can be made about how much the derby raised, Bracciano said.
Copyright 2017 The Lawrence Journal-World. All rights reserved. This material may not be published, broadcast, rewritten or redistributed. We strive to uphold our values for every story published.