In some ways, Judy Brzoska says, the sudden terror of a tornado is easier to handle than the days-long wait for a hurricane.
Brzoska and her husband, David Brzoska, left Lawrence in May, moved to Florida and bought a home.
Of course, Judy Brzoska had an idea of how devastating hurricanes could be. But she thought the luxury of time to get ready would make it easier, less frightening than a Midwest twister.
"There are six days to prepare. That was my thought," she said Friday from her home in Naples, Fla. "I didn't realize it is six days of stress. You just don't know until you've been there."
Now she knows.
In addition to the stressful wait, Hurricane Charley taught her how devastating a hurricane could be, taking out whole towns, even counties.
But even with all her new knowledge, Brzoska said she still didn't know how prepared she should be for Frances, the monster hurricane expected to hit communities up the coast from Naples.
"Nobody knows quite what to do," she said. "I'm not a fearful person. I'm a really bold person. But hurricanes are scary."
Just weeks after Hurricane Charley ravaged the state, Hurricane Frances was expected to come ashore as early as this afternoon, nearly a day later than earlier predictions. For the 2.5 million residents told to clear out -- the biggest evacuation in Florida history -- and millions of others who remained at home, Frances' tardy arrival meant yet another day of waiting and worrying.
"I really love it in Florida," Brzoska said. "It's gorgeous down here. However, my comment to my husband was if I was renting, I probably wouldn't stay."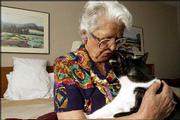 Return to Kansas
Evelyn Mishler didn't stay.
Mishler, a Lawrence native, moved to Punta Gorda, Fla., 18 years ago with her husband, Bud Mishler. He died 10 years ago.
And after losing her home to Hurricane Charley, she returned last week to Lawrence.
Mishler said she had harbored mixed emotions about moving back. It's her hometown. She's closer to her daughter and has renewed contact with friends she hadn't seen in years. But Punta Gorda had become her home, and she said she felt for Floridians who must prepare for yet another hurricane.
"I feel selfishly happy that I'm not there," she said. "But it really makes you hurt."
Her experience with the Charley, though, taught Mishler some lessons as well.
Meteorologists predicted Charley would hit Tampa. Instead, it hit Punta Gorda, about 80 miles to the south.
An evacuation was ordered, so Mishler had to leave or be fined $500.
She found a place to stay at the Hotel Cadillac, about a quarter mile inland from her trailer home. She chose the refuge because it allowed her to bring along her companion of the past four years: a black-and-white cat named Happy.
As Charley roared outside, Mishler spent four hours in the bathtub, Happy beside her in a cat kennel.
"You're just sitting there wondering if you're going to die by drowning, be blown away or just disappear," she said. "I was alone with the exception of my cat. It's a feeling that, hopefully, most people don't have to go through. Your life passes before your eyes and you're thinking, 'Is this the way I'm meant to go, Lord?' It gives you plenty of pause for thought."
Devastated landscape
But Mishler, Happy and the Cadillac Hotel all made it through in one piece.
Leaving her hotel room refuge, Mishler realized how devastating the damage was.
Others who rode out the storm at the hotel wept as they left their rooms, she said. Some just walked around in a daze, not sure what to do next.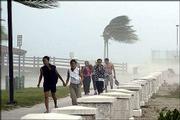 As other people examined their cars for damage, Mishler noticed the hotel sign had blown down and been wrapped around the back of her car. Men were able to get it off.
Back at her trailer park, the damage was shocking.
Her trailer looked fine from the rear, leading some onlookers to note Mishler must have been praying hard for salvation from the storm. But the back was the only wall remaining. Like all 454 trailers in the park, it was left uninhabitable.
"You could be in your own front yard and not recognize it, the house next door to you or across the street," she said. "All the trees we planted -- the avocado tree, the orange tree, several different kinds of palm trees -- they were all gone."
The things Mishler knew so well and had been with for 18 years were gone. What had been her home was like a foreign land, complete with National Guardsmen and military vehicles.
"It made it appear more like pictures we see on television of Iraq," she said. "We looked, actually, more devastated than they did."
The day after Charley hit, Mishler's daughter, Le Anne Maples and her husband, Michael Maples, arrived from Lawrence.
Mishler considered herself lucky.
'Just crazy'
Brzoska, still in Florida on Friday, said that for all the pain it caused, Charley had positive effects as well.
"People have really pulled together here to help each other," she said. "But people have also had to leave again because of Frances."
Schools -- many of which began two weeks later than planned because of damage from Charley -- were dismissed Friday to give families time to move inland.
By Friday afternoon, Naples was being overrun with people evacuated from communities as far away as Miami, Brzoska said. Hotels still full of people left homeless after the Charley and an influx of emergency workers are making the squeeze even tighter.
"We're opening the emergency shelters here again," Brzoska said. "That's mainly for people in homes in low-ground areas and mobile homes."
And Thursday night, she found out on television that if there is a mandatory evacuation of Naples, she and her husband, who is traveling back home from New York, will need a permit to get back to their home.
"It's just crazy," she said.
Copyright 2018 The Lawrence Journal-World. All rights reserved. This material may not be published, broadcast, rewritten or redistributed. We strive to uphold our values for every story published.