Slow starts and strong finishes have been commonplace for Wellsville's football team the last few seasons, but coach Bill Oshel wants that to change in 2004.
The "strong finish" part is just fine with Oshel, now in his 14th season at WHS. It's the slow start that he hopes to remedy.
The Eagles started 1-5 in 2002 before winning four of their last five games.
Last year was a similar story when they lost their first five games before winning six straight and advancing to the Class 3A state quarterfinals. A 35-21 loss at Silver Lake ended Wellsville's season.
Oshel said his players spent their offseason talking about building on the momentum from their final six games of 2003. The plan this year is to win early and often -- and keep winning late in the season.
"The guys don't want to start from scratch," Oshel said. "They don't want to start over again. They want to start where they left off last year, and that's sort of a battle cry for them."
Starting over seems unavoidable, however, given the impact players absent from this year's roster. Quarterback Ryan Oshel -- a former All-Frontier League selection -- graduated, as did do-it-all guy Gary Van Horn, who played wide receiver, running back, defensive back, kicker and kick returner for Wellsville for the past four years.
In their place, Oshel said he had plenty of guys poised to break through this season.
"At the start it'll take two or three kids to do their job, but we'll replace them by late in the season," he said. "Those two kids (Ryan Oshel and Van Horn) shined up above the rest, but all of our kids did a great job for us last year. You hate to lose good players, but we'll be okay."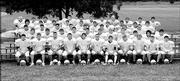 Battling to replace Ryan Oshel at quarterback will be junior Austin Bloss and senior Cody Gardner. Gardner was the backup last year while Bloss played receiver. Neither saw game action at quarterback in 2003, but Oshel said he wasn't worried about that.
Senior Josh Lamberd and juniors Ryan Schendel and Kyle Rush likely will comprise Wellsville's starting backfield, and senior Danny Erlacher will be the impact receiver.
In a more intriguing move, Oshel said he will move senior Kelsey Currin and use him to shore up a hole in the offensive line. Currin was Wellsville's top short-distance running back last year, and Oshel said he still may carry the ball occasionally.
Sept. 3 -- EudoraSept. 10 -- at Anderson CountySept. 17 -- at BaldwinSept. 24 -- De SotoOct. 1 -- at Prairie ViewOct. 8 -- OsawatomieOct. 15 -- at BurlingtonOct. 22 -- Jayhawk-LinnOct. 28 -- Central Heights
Defense will be Wellsville's bread and butter, though. Lamberd, junior Mitch Breeding, senior Michael Bell, sophomore T.J. Greene and junior Doug Gillenwater -- a transfer from Jayhawk-Linn -- will compose the line, while linebackers Thatcher Starling and Currin will be the heart of the defense. Gardner, Schendel, Rush, Bloss and Jonathan Roby will battle for the starting spots in the secondary.
"From the beginning of the season our defense is going to be there for us," Oshel said. "It has to be. I don't see any reason it shouldn't be. We have kids who know how to play there and have some experience there. Defense is all about heart, and the kids we have out there, they know how to work hard and their hearts just shine."
If the defense is as effective as Oshel expects it to be, and the restructured offense clicks, Wellsville just might find itself deep in the state playoffs again this year.
"We're just hoping to continue where we left off last year," he said. "We hope to have a good campaign throughout the season and then make a big push and see where we can be at the end of the season and hopefully have a shot at things."
Copyright 2018 The Lawrence Journal-World. All rights reserved. This material may not be published, broadcast, rewritten or redistributed. We strive to uphold our values for every story published.