It's not likely there's a coach more eager to begin the 2004 high school football season than Santa Fe Trail's Dave Watkins.
Watkins, now in his second year at SFT, wants to erase the memories of last year's constant struggles and return the Chargers to their usual position among the league leaders in the Kaw Valley League.
Watkins inherited the SFT program in 2003 when legendary coach Bob Von Stein retired after 25 seasons guiding the Chargers, but the transition was anything but smooth. SFT went 2-7 -- its worst record since the 1986 team went 3-6 -- and hit rock-bottom in a demoralizing 2-0 loss at Basehor-Linwood.
"I think the kids were embarrassed not only for themselves, but for the program because Trail is a tradition-rich program and it's uncommon to be that way," Watkins said of the sub-par season. "We were awfully young last season, though, and we only had eight seniors. We're bringing some kids back who played a lot last year, so I'm excited to see how things will fall together."
Santa Fe Trail was hindered by two key things last year: Its squad was loaded with young, inexperienced players, and it didn't have a proven offensive or defensive line.
Weaknesses on the line were the most glaring problem, and Watkins said that will be a question mark again this season. The Chargers now boast plenty of experience -- especially at the skilled positions -- but they may not have the line to block on offense or slow opponents on defense.
"The biggest concern is finding some depth on the offensive line," he said. "We only have two seniors on the offensive line, and we may have some juniors and a sophomore or two step up and give us some depth. We're going to try to establish our lines and then see where everything fits."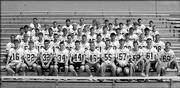 Watkins knows he has a talented quarterback returning in junior Brian Shively, who suffered an early season-ending injury. Watkins also is confident in his ground attack, which boasts senior fullback Justin Kramer and speedy junior tailbacks Aaron Beatty and A.J. Shelton. Senior Ryan Griffin is expected to be the go-to receiver if the line provides enough time for the passing game to develop.
"Every coach would like to say we'll be balanced," Watkins said, "but at Trail we've always been a run-oriented team. We have a couple kids at the quarterback position who have the ability to throw, so I'm hoping to be able to open it up and throw it a little bit more if we can."
SFT could be improved on defense with a slew of experienced talent. Inside linebacker Justin Wiscombe was Trail's leading tackler last year with 104, and outside linebacker Travis Eden is a solid run-stopper. Cornerback Justin Cooper and defensive end Marcus Day also are key returning starters. Once again, however, the defensive line will be unproven.
Sept. 3 -- KC PiperSept. 11 -- at ImmaculataSept. 17 -- at LansingSept. 24 -- Perry-LecomptonOct. 1 -- TonganoxieOct. 8 -- at Mill ValleyOct. 15 -- at EudoraOct. 22 -- BaldwinOct. 28 -- at Spring Hill
"We're changing a little bit of our schemes because of the personnel that we have back," Watkins said of the Chargers' defensive strategy. "We're not going to have a lot of size, but hopefully the speed that we have back will lay some foundation to build on."
Santa Fe Trail opens its season Friday at home against KC Piper.
Copyright 2018 The Lawrence Journal-World. All rights reserved. This material may not be published, broadcast, rewritten or redistributed. We strive to uphold our values for every story published.