Ames, Iowa — Surely you've heard the one about the little old lady who was standing outside the locker room after the football game and accidentally was jostled by the head coach.
"No offense," the coach quickly said, apologizing to the woman.
And the little old lady gave him a steely look and snapped, "You can say that again."
Kansas University coach Mark Mangino didn't jostle anyone after the Jayhawks' stultifying offensive performance in Saturday's 13-7 loss to Iowa State at Jack Trice Stadium, but then again he may have been aware of that old football bromide and had his eyes peeled for little old ladies.
Kansas certainly has no offense when it plays on the road, making you wonder if the Jayhawks are coached by Mangino or by Willy Loman, that road-weary hawker in "Death of a Salesman."
KU's home-road disparity is one of the great mysteries of the 2004 college football season. How can a team average 36.3 points in four home games and only 10.5 points in four road games? How can a team score 31 points against Kansas State and 30 points against Texas Tech at home, yet only eight points against Nebraska and seven against Iowa State on the road?
When all is said and done, the Nebraska and Iowa State games quite likely will be pointed to as watershed contests -- the games that made the difference between a losing season and a winning season.
Although occurring about a month apart, the 14-8 loss in Lincoln, Neb., and Saturday's 13-7 defeat at Jack Trice Stadium followed the same general script. The defense delivered, and the offense barely found the post office.
In Saturday's post-mortem, KU's defensive players would not say anything bad about the offense, just like last year when the Jayhawks had no defense, the offensive players said nothing derogatory about the other platoon.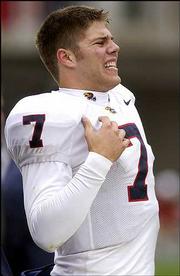 Instead, KU's defenders blamed themselves.
"Their defense scored," senior tackle and co-captain Travis Watkins said, "so their defense outdid our defense."
KU's defense was rock solid. Kansas defenders held the Cyclones to a piddling 192 yards on 73 plays -- a mere 2.6 yards per play. ISU's longest run was 17 yards. The Cyclones' longest pass play went for nine yards.
And yet the Jayhawks produced just one turnover -- an interception by Charles Gordon deep in the Jayhawks' territory in the first quarter -- while the Cyclones intercepted three passes and returned a Brian Luke fumble for a touchdown -- a dejá vu moment from a week ago -- and blocked a punt to set up a field goal.
The irony of Luke's fumble was that it was a replay of what probably earned him the No. 2 quarterback job behind Adam Barmann.
When Luke, who played some last year but hadn't logged a down this year, came on the field with about seven minutes remaining in the first half to replace the injured Barmann, the reaction was an eyebrow-raising ... Brian Luke???
Mangino had given no indication during the week that Luke had supplanted Jason Swanson as Barmann's back-up. No reason was given for the switch, but surely it had something to do with Swanson waiting too long to pass last week against Oklahoma, having the ball flicked out of his hand and watching it returned for a touchdown.
Saturday, the new No. 2 QB did the same thing. Luke waited too long to unload a pass, had the ball slapped out of his hand and saw ISU's Brent Curvey lug the ball into the end zone.
Still, Mangino sent Luke back out there following the gaffe, but after the lanky senior was sacked for a big loss, the KU coach used Swanson the entire second half.
Even with the Jayhawks' quarterbacking woes -- Barmann wasn't exactly setting the world on fire before he was hurt -- and the unavailability of tailback John Randle, unable to go because of an unreported injury, there can be no excuses.
When your defense doesn't allow an offensive touchdown, you must find a way to win. The Jayhawks couldn't, and, while it is still mathematically possible to have a winning season and go to a bowl game, any real hope died Saturday afternoon.
Copyright 2018 The Lawrence Journal-World. All rights reserved. This material may not be published, broadcast, rewritten or redistributed. We strive to uphold our values for every story published.