Many collectors are searching for their childhood memories when they buy at flea markets.
Today, shows and shops sell many items made and used as late as the 1980s. Comic-book, movie and TV characters are especially popular.
In 1947, the children TV series with Howdy Doody, a marionette, and Buffalo Bob, a person, appeared on the air. The series lasted until 1960. Howdy Doody was a redhead with 48 freckles -- one for each state. Other live characters on the show included Princess Summerfall-Winterspring, Chief Thunderthud and Clarabell Hornblow the clown. Marionettes included Dilly Dally, Flub-a-Dub, Phineas T. Bluster and many more.
In the late 1970s, the children who remembered Howdy from their younger days enjoyed hearing Buffalo Bob lecture at their college campuses. There was new interest in all things Howdy Doody. Many of the old toys and games were bought and sold, and new Howdy items were created for the giftware market. He is still a popular character for collectors.
I bought a large Early American pine desk many years ago for $100. One of the drawers is marked "Link-Taylor" with a stamped picture of a log cabin. Can you tell me how old the desk is?
In 1936, Henry T. Link and Frank Taylor took control of the former Dixie Furniture Co. of Lexington, N.C. Link introduced mass-production techniques, and the company expanded to form four separate firms during the 1950s and '60s. Link-Taylor was one of those four. It specialized in high-quality, solid-wood bedroom and dining-room furniture. In 1987, the four companies merged into Lexington Furniture Industries. Today its name is Lexington Home Brands. Your desk was manufactured no earlier than the 1950s.
My ceramic dresser set was given to me more than 50 years ago by my great-great-aunt. The painted violets on the pieces are all the same design, but the factory marks on the bottoms are different. Some are marks of German makers, and some belong to French companies. How can that be?
During the late 19th and early 20th centuries, American companies imported thousands of pieces of undecorated china from all over Europe. China-painting was an extremely popular hobby, especially among women. They bought the china blanks and then hand-painted flowers and other designs on dishes and dresser sets.
I was born in 1940 and lived in my childhood home until 1964. All that time, we had the same light bulb on our front porch. I have that bulb today, and although the glass bulb has darkened, it still gives off a brilliant light. The bulb is 5 inches long and has a GE logo on it. The globe is also embossed with the words "Edison" and "Mazda." The filament is one continuous piece of curving wire. Can you give me some information about this old bulb?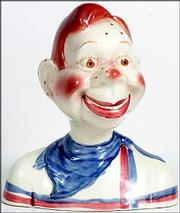 Thomas Edison patented his incandescent carbon-filament lamp in 1880. Two years later, the General Electric Co. was formed. The familiar GE logo -- still used today -- was introduced on its light bulbs in 1907. Two years later, GE adopted the name Mazda (the Persian god of light) as a trademark for bulbs with the latest improvement -- tungsten filaments. GE helped American manufacturers standardize the size of bulb bases, and also licensed the use of the Mazda trademark by other manufacturers, including Westinghouse and National. GE discontinued its own use of the Mazda name in 1945. While some collectors search for old GE light bulbs like yours, there are many more collectors who hunt for the Mazda ads designed by American artist Maxfield Parrish during the 1910s and '20s.
Tip
Mildew, fungus, stains and odors can be removed from the wooden parts of furniture by using a commercial mildew remover found at the supermarket. Wipe the entire piece, or it will have a lighter spot where it was cleaned.
Current prices are recorded from antiques shows, flea markets, sales and auctions throughout the United States. Prices vary in different locations because of local economic conditions.¢ Vogue Brikette doll, vinyl, green flirty sleep eyes, bright-orange hair, freckles, fashion sunglasses, 1961, 22 inches, $110.¢ Tiffany & Co. bar set, sterling, Cordis pattern, 2 tumblers and 1 handled jigger, c. 1950, $460.¢ Pieced quilt, Robbing Peter to Pay Paul pattern, red and black, white dots on burgundy backing, 70 x 81 inches, $575.¢ Degue cameo hanging shade, frosted dome-shape body, burgundy bird in flight, dahlias, vine and pods, signed, 14 inches, $995.¢ Classical carved sofa, mahogany, scrolling crest rail, upholstered back and seat, leaf-carved legs with paw feet, light-green velvet, c. 1835, 84 1/2 inches, $1,150.¢ Coca-Cola radio-music box, conversion-type, plastic, red figural cooler, standing doll dressed as Southern Belle, rotates, 1950s, 18 inches, $1,705.¢ Spatterware soup plate, paneled, dark-red border, red, white and blue tulip with green leaves, impressed mark, 10 1/2 inches, $2,185.¢ Salesman's sample reel lawn mower, 1876, $3,500.¢ Michelin Tires Man advertising figure, horsehair and plaster, original paint, c. 1915, 32 inches, $3,630.¢ Bacchus paperweight, with millefiori pastel canes, cogwheels, blue, white, c. 1850, 3 1/4 inches, $6,900.
Copyright 2018 The Lawrence Journal-World. All rights reserved. This material may not be published, broadcast, rewritten or redistributed. We strive to uphold our values for every story published.