Boston — Confetti rained down, and the "Hallelujah Chorus" resounded through city streets Saturday as grateful fans embraced the World Series champion Boston Red Sox during a jubilant parade that even went afloat on the Charles River.
An estimated 3.2 million people packed the seven-mile parade route on a raw autumn day with spitting rain, standing in dense crowds, hanging from windows and cheering from rooftops.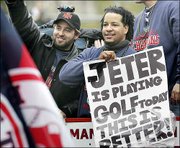 Some held signs bearing words of thanks, marriage proposals and expressions of wonder at the team's achievement after 86 years of dashed hopes since its last championship in 1918.
"All is forgiven," read one banner. "Now we just have to wait for the other six signs of the apocalypse," said another. And dozens said simply: "Thank you."
"It started raining, and it was cold, and the people didn't even care," pitcher Derek Lowe said. "They've waited a long time. You'll never see a parade like that with so many people, no matter what sport or what city."
Pitcher Pedro Martinez was hit in the forehead by a baseball thrown from the banks of the Charles. He looked stunned and put his hand to his forehead as the ball floated down the river.
"I have a little headache, but I'm OK," said Martinez, who sat atop his boat, draping himself with the Dominican flag like a cape.
Copyright 2018 The Associated Press. All rights reserved. This material may not be published, broadcast, rewritten or redistributed. We strive to uphold our values for every story published.