Runnebaum-Honeyman
Nikki Runnebaum and Ryan Honeyman, both of Seneca, were married Aug. 7, 2004, at Saints Peter and Paul Catholic Church in Seneca with the Rev. Roderic Giller officiating.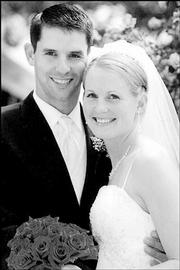 The bride is the daughter of Jim and Myra Runnebaum, Seneca. The groom is the son of Rick and Linda Honeyman, Lawrence. Grandparents of the couple are Luella Brinker, Virginia Runnebaum, Eleanor Hermesch and Bob and Rosie Honeyman, all of Seneca.
Maid of honor was Lisa Runnebaum. Bridesmaids were Jalayne Bacon, Jayme Gillund, Lena Runnebaum, Haley Honeyman and Kristin Brune. Best man was Rick Honeyman. Groomsmen were Darrin Hermesch, Glendon Wilhelm, Jeff Runnebaum, Ryan Robke and Wes Runnebaum.
Flower girl was Skylar Runnebaum and ring bearer was Sloan Thomsen. Candle lighters were Leah Hermesch and Sara Wihelm. Ushers were Brad Bingham, Travis Cardwell, Mike Hynek, Steven Rusche and Kevin Strathman. Flower hostesses were LaVerne Strathman and Janet Honeyman. Musicians were Janet Kramer and Tom Murry.
A dinner and dance reception followed the ceremony at the Knights of Columbus, Seneca. Host and hostesses were Rick and Diane Cardwell and Dave and Connie Runnebaum. Guest book attendants were Kerri Honeyman and Emilee Harlan.
The bride graduated from Emporia State University with a bachelor's degree in education. She is the volleyball and track coach at Marysville High School.
The groom attended Kansas State University. He is a sales executive at Rick Honeyman Ford and Mercury in Seneca.
The couple took a honeymoon trip to Hawaii. They reside in Seneca.
Elvis-Copes
Joni Elvis and Brent Copes, both of Lawrence, were married Sept. 18, 2004, at the CPA Park gazebo in Eudora with the Rev. Waylon Ingle officiating.
The bride is the daughter of Foster Harper, Clarendon, N.C., and Marie Pagano, Lumberton, N.C. Her children, Amanda Wynn, Crystal Wynn and Justin Wynn, all of Lumberton, N.C., were unable to attend.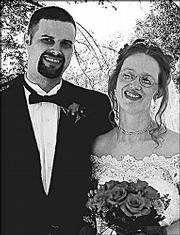 The groom is the son of David Copes, Hartville, Mo., and Beverly Copes, Eudora. He is the grandson of Eula Copes and Kenneth and Rosellen Long, all of Missouri.
Maid of honor was Dawn Huddleston. Best man was Justin Huddleston. Kathryn Copes was a bridesmaid, but was unable to attend. The groom's grandfather, Kenneth Long, escorted the bride.
Jason Copes helped set up for the wedding and reception. The groom's grandparents Rosellen and Kenneth Long helped with the food and set-up and clean-up.
Wedding coordinator was Beverly Copes. Richard Long was photographer. Videographer was Ellen Bledsoe.
A reception followed the ceremony at the CPA Park gazebo.
The bride is a student at the Lawrence Diploma Completion Program. The groom is a Eudora High School graduate and attended Kansas University and Kansas State University. He is employed at Amarr Garage Doors.
The couple reside in Lawrence.
Adams-Warren
Brenda Je'nelle Adams and Thaddeus Quinn Warren were married Sept. 4, 2004, during a candlelight ceremony under the grape arbor on the Baker University campus in Baldwin.
The bride is the daughter of Phyllis and Roger Adams, Garnett. She has two sons, Cody Mundell and Josh Mundell. She earned a master's degree in psychology and art therapy from Emporia State University. She is a practicing art therapist at the Bert Nash Community Mental Health Center in Lawrence. She also is a consultant with Arbonne International.
The groom is the son of Loretta and Herb Warren, Overbrook. He earned a bachelor's degree in psychology from Kansas University. He works as a case manager at Bert Nash Community Mental Health Center.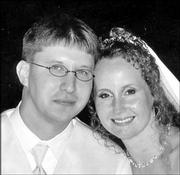 They reside in Baldwin.
Loehr-Ellis
Ruby Loehr, Eudora, and Lewis Ellis, Linwood, were married Oct. 15, 2004, in Harrison, Ark., with the Rev. James Jackson officiating.
The couple live in the Fall Leaf community near Eudora.
Copyright 2018 The Lawrence Journal-World. All rights reserved. This material may not be published, broadcast, rewritten or redistributed. We strive to uphold our values for every story published.