So ... what exactly is supposed to be made of this mess?
The first-place team in the Big 12 North is sitting with a cool .500 record in the conference. The last-place team also is tied for third in the six-team race, just one game back of the two squads tied for first with a mediocre mark.
Untwist your tongue, then start wondering how on earth the Big 12 North could be in the shape it's in right now.
Really, only Baylor prevents the Big 12 from being all power in the South and all dead weight in the North. Excluding Baylor games versus the North schools, the Big 12 South is 11-0 against the Big 12 North, and the conference records are a constant reminder of how lopsided things are this season.
While four of the six South teams flaunt one-loss Big 12 records or better, exactly zero of the North teams hold that same distinction. Missouri and Nebraska are 2-2, and everyone else -- Kansas University, Iowa State, Kansas State and Colorado -- are sitting at 1-3, unsatisfied, but, remarkably, only one game out of first place.
The last four games of the regular season will be a battle to see which North team qualifies for the Big 12 Championship game Dec. 4 in Kansas City, Mo.
Of course, the Big 12 championship is a qualifier for a major Bowl Championship Series game, with titanic payouts and titanic exposure on national television.
KU coach Mark Mangino never is one to get ahead of himself, and he doesn't say much about the logjam of mediocrity in the division -- one that's enabling KU to hang around in the quest for a North crown.
"If we take care of our business," he said, "all those other things will take care of itself."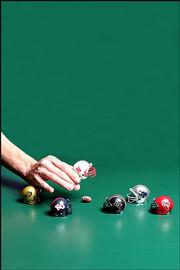 KU still has goals within its reach, including a bowl game (if it goes 3-1 the rest of the season) and, perhaps, a Big 12 North title (if it goes 3-1 or 4-0 and gets a little help).
But KU is getting the opportunity to compete simply because nobody is stepping up in the North, seemingly making the last five weeks of the season a mere race to see who can crawl across the finish line with the fewest bumps and bruises.
Endless cycle
The eerie foreshadowing took place at the conference season's opening game in Lawrence on Sept. 25. Then, Kansas took a commanding 30-5 lead over Texas Tech, only to have it wither away and fold like a lawn chair. Texas Tech won, 31-30, starting both divisions on a path toward a season of inter-divison success and failure -- and nothing in between.
The North never has recovered, getting only bragging rights over Baylor in the inter-division showdowns that sprinkle the schedule.
"I think leagues go in cycles, and divisions go in cycles a little bit," Missouri coach Gary Pinkel said. "We still have good football teams here."
Since the KU collapse, North teams have been beating up on each other -- and South teams have been dropping in for occasional, unforeseen uppercuts.
Nebraska could have pulled ahead last week, but Kansas State whooped the Huskers, 45-21. That victory could have put Kansas State in the driver's seat, but Kansas slipped past the Wildcats, 31-28, three weeks ago.
The number of inter-division regular-season victories between the Big 12 North and South since the league was formed in 1996:1996: North 12, South 61997: North 12, South 61998: North 9, South 91999: North 9, South 92000: North 9, South 92001: North 10, South 82002: South 11, North 72003: South 12, North 62004: South 11, North 3
KU, meanwhile, could be looking good itself if not for starting out 0-2 -- with the one-point loss to Texas Tech and a six-point road loss to Nebraska.
That cycle -- one of many in this bizarre season -- does avoid Missouri, but the Tigers are stumbling and bumbling, too -- witness a loss to Texas two weeks ago, and a stinging 20-17 setback to Oklahoma State last week, after Mizzou was up 17-0.
To get a winner, the North needs a team to take charge. Nobody's even close to doing that right now, and no coach seems comfortable acknowledging as much.
"Even though the South division has some talented football teams," K-State coach Bill Snyder, "some of the scores between North and South teams are very tight ballgames."
What's next?
Today's Missouri-Nebraska game will force a team to go to the top of the standings, probably the best way to start the stretch run of the 2004 season. Otherwise, it still might be a mess after this week. As it stands, nobody in the North knows who they're supposed to be chasing right now.
For KU's sake, Missouri likely would be the ideal choice to win today's game. Nebraska already has beaten KU, and Kansas will have a chance to make up ground on Mizzou when the two teams meet Nov. 20.
It's all worthless, though, if the Jayhawks don't take care of business themselves. Kansas would benefit immensely if it wins out against its remaining North foes -- today at Iowa State, next week against Colorado and Nov. 20 at Missouri. The only other matchup is an inter-division game at home against Texas on Nov. 13.
For all the slipping and sliding KU has done during the conference season, the fact the Jayhawks are still alive for a chance to go to Kansas City is pretty remarkable -- or a pretty good example of how unremarkably tangled the North is in 2004.
"It's a lot of motivation," KU safety Rodney Harris said. "There's a lot of competition in this division. We know we have a chance, and we go out to every game with that in mind."
Copyright 2013 The Lawrence Journal-World. All rights reserved. This material may not be published, broadcast, rewritten or redistributed. We strive to uphold our values for every story published.