A senior executive at the Kansas University Endowment Association has been named president and CEO of the university's alumni association.
Kevin Corbett, 38, will assume the association's reins Nov. 15.
Currently secretary and senior vice president for development at the endowment association, Corbett has been a key player in the association's "KU First: Invest in Excellence" fund-raising campaign. The campaign is expected to reach its $600 million goal early next year.
The alumni association's new director has been at the endowment association since 1997, overseeing all fund-raising activities for all four KU campuses. He's also been in charge of the annual giving, donor relations, communications, development research and the Chancellors Club.
"I appreciate and embrace the opportunity to lead one of the great organizations of its kind nationally," Corbett said Friday.
The alumni association's 24-member board on Oct. 23 voted unanimously to hire Corbett. The hiring was announced Friday.
He succeeds Del Shankel, the alumni association's interim president and CEO. Shankel, who twice served as chancellor, replaced Fred Williams, who was fired by the board in May.
Williams, who held the association's top post for 21 years, has filed a lawsuit, claiming his firing was abrupt and unwarranted.
Earlier this month, the alumni association filed a response to the lawsuit, arguing Williams had been warned that his once-stellar performance was lagging and that he might be fired.
The response specifically noted Williams had been told to "cease his negative conduct" toward Chancellor Robert Hemenway.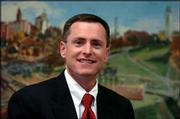 On Friday, Hemenway welcomed news of Corbett's hiring.
"I look forward to continuing to work with Kevin," Hemenway said in a prepared statement. "He has done a superb job at the endowment association, and I'm sure he'll do an equally fine job for the alumni association and our alumni."
Corbett said he intended to turn the association's negatives into a positive.
"When I meet with the staff, I intend to remind them that the alumni association was founded in 1883 and that, over the years, it's had to overcome things more difficult than what we're going through now," he said. "This is an opportunity for the association to be stronger than it's ever been."
Corbett vowed to:










¢ William Carruth, 1883-1905¢ Leon "Daddy" Flint, 1905-1916 (first paid staff leader)¢ Agnes Thompson, 1916-1920¢ Alfred "Scoop" Hill, 1920-1924¢ Fred Ellsworth, 1924-1963¢ Dick Wintermote, 1963-1983¢ Fred B. Williams, 1983-2004¢ Delbert M. Shankel, 2004¢ Kevin Corbett, 2004-

"Redouble" the association's outreach efforts both in- and out-of-state.
Breathe new life into the association's popular honors program, which uses alumni, banquets and gift dictionaries to encourage the state's top high school students to attend KU.
Do more to involve alumni in the daily life of the university.
Dick Wintermote, who worked with the alumni association from 1951 to 1986, called Corbett the perfect hire.
"I know him well; he'll be great," said Wintermote, 78, a Lawrence resident. "He's already well-acquainted with the university. All he'll have to do is acquaint himself with his staff, think a few things out and go from there. I don't think he'll miss a step."
Independent of the university, the alumni association is dedicated to maintaining and strengthening former students' ties to the university.
The association has 47,000 members, 35 employees and a $4 million annual budget.
Copyright 2018 The Lawrence Journal-World. All rights reserved. This material may not be published, broadcast, rewritten or redistributed. We strive to uphold our values for every story published.