MANCHESTER, N.H. — President Bush and Sen. John Kerry flatly rejected a new videotape Friday from Osama bin Laden, saying it wouald have no impact on America, but the terrorist's dramatic reappearance four days before the election threw an October surprise into American politics that could influence the vote.
Bin Laden, in what he termed an address to the American people delivered to the Arab TV network al-Jazeera, took direct responsibility for the Sept. 11, 2001, terrorist attacks for the first time and said they were retribution for U.S. foreign policies that menaced the security of Muslims.
About two hours after the videotape surfaced, President Bush delivered a terse statement before TV cameras after a campaign stop in Toledo, Ohio:
"Let me make this clear: Americans will not be intimidated or influenced by an enemy of our country. I'm sure Senator Kerry agrees with this. I also want to say to the American people that we are at war with these terrorists. And I am confident that we will prevail."
Moments before, Kerry too had responded before cameras:
"In response to this tape from Osama bin Laden, let me make it clear, crystal clear. As Americans, we are absolutely united in our determination to hunt down and destroy Osama bin Laden and the terrorists. They are barbarians. And I will stop at absolutely nothing to hunt down, capture or kill the terrorists wherever they are, whatever it takes. Period."
Neither man took questions.
While the candidates echoed each other, there was little doubt in political circles that bin Laden's injection of himself into the final days of the campaign would have an impact on voters' perceptions and perhaps on votes.
Most analysts speculated that the tape would boost Bush's prospects, though some said it would merely reinforce Bush and Kerry supporters' prevailing attitudes, and a few said it gave Kerry a small opening to charge that there were flaws in Bush's leadership.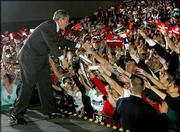 "My gut reaction is that it helps the president," independent pollster John Zogby said. "Anything that reminds people of terrorism or puts terrorism back on the agenda helps Bush. Among those who tell us terror is the top issue, Bush leads."
Numerous polls show that Americans rank terrorism at or near the top of their list of concerns, and clearly prefer Bush to Kerry to protect them from more attacks.
In a recent Gallup poll, 31 percent of likely voters called terrorism the most important issue in deciding their votes, 30 percent listed the economy and 25 percent said Iraq. Likely voters preferred Bush over Kerry to handle terrorism by 59 to 37 percent.
Bin Laden's message might unwittingly reinforce Bush's campaign strategy. "It reasserts Bush's theme that it's a nasty world out there," said Dennis Goldford, a political scientist at Drake University in Iowa, a closely contested state.
"It might benefit Bush marginally. But in a close election, margins count," Goldford said.
Rich Galen, a Republican commentator and former party strategist, predicted that the tape would reinforce existing opinions rather than change minds. As with so many other issues in this election, Galen said, voters are likely to see what they want to see.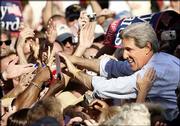 "What it does is re-emphasize the threat that bin Laden poses. Bush has always been very consistent on the nature of the threat, and the effort to go after al-Qaida and to track down the perpetrators of Sept. 11," said Earl Black, a political scientist at Rice University in Houston. "It's hard to see how this could help Kerry."
Several analysts said one way Kerry might gain support would be if he used the tape to reinforce his argument that Bush let bin Laden escape in Afghanistan and the war in Iraq was a diversion from the effort to hunt down the terrorist leader.
That's precisely what Kerry said initially, in an interview with WISN-TV of Milwaukee, before issuing his more-considered statement later after huddling with top staff. In the WISN interview, Kerry emphasized that all Americans are united in determination to oppose bin Laden, but he also faulted Bush for failing to get him.
"I regret that when George Bush had the opportunity in Afghanistan and Tora Bora, he didn't choose to use American forces to hunt down and kill Osama bin Laden. He outsourced the job to Afghan warlords. I would have never have done that. I think it was an enormous mistake and we are paying the price for it today," Kerry said.
Asked what impact the videotape might have on the election, Kerry said: "I don't think any. I think Americans understand we're living in a dangerous age. I am prepared to wage a more effective war on terror than George Bush."
Kerry's advisers also tried to turn the issue against Bush.
"The tape shows that he's (bin Laden's) still around. We should have captured him and we haven't," Kerry adviser Richard Holbrooke told CNN minutes after the cable network aired the tape. "How can this grotesque mass murderer be out there on worldwide television more than three years after 9-11. Why haven't we captured him?"
Said Steven Schier, a political scientist at Carleton College: "There are opportunities for both campaigns. But the immediate effect is that 9-11 is back with a vengeance."
Copyright 2017 The Lawrence Journal-World. All rights reserved. This material may not be published, broadcast, rewritten or redistributed. We strive to uphold our values for every story published.