Someday, the research Bala Subramaniam is leading could affect a variety of everyday products, including gasoline, nylon, margarine and pharmaceuticals.
But much of the first year of the Center for Environmentally Beneficial Catalysts, which Subramaniam directs, hasn't been focused on science. It's been spent on administrative duties such as hiring staff, establishing intellectual property policies and recruiting industry partners.
"We've kicked things off," Subramaniam said. "We are poised. If we are to sustain the research in the long run, it's only going to happen with the excellent infrastructure we can build."
It's been slightly more than a year since KU announced it would receive a $17 million grant to establish the center to study catalysts, which speed chemical reactions that help make a variety of products. Coupled with industry and university support, the project is worth about $30 million over five years.
At the time, the grant from the National Science Foundation was the largest in university history. It has since been surpassed by an $18 million grant received by the KU Medical Center for its Kansas IDeA Networks of Biomedical Research Excellence program.
Laying the groundwork
The center grant includes researchers at KU, the University of Iowa and Washington University in St. Louis. Prairie View A&M; University in Prairie View, Texas, a historically black institution, recently was added as a partner to help aid in the NSF's goal of adding a set of diverse researchers to their projects.
The center has taken over about 12,300 square feet of KU's Life Sciences Research Laboratories, in the former Oread Labs building at 15th Street and Wakarusa Drive. The space includes both administrative offices and labs, with more lab space under renovation.
Some research already under way by member institutions has continued under the catalyst center's name. But before research could begin in earnest, Subramaniam said the groundwork had to be laid.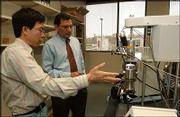 Support staff, including a lab technician, a liaison to industry and an administrative director, have been hired. Affiliated researchers at the four institutions include 30 faculty, 30 graduate students, 15 post-doctoral researchers and 10 undergraduate students.
Center leaders also have created a structure for researchers to suggest projects and for various groups to collaborate from their institutions.
"These are huge programs," said Jack Rosazza, director of the Center for Biocatalysis and Bioprocessing at the University of Iowa. "They're extremely complex. There are a lot of components, with research, education, interfacing with NSF, industrial outreach and diversity. Each of those required quite a bit of effort."
Changing catalysts
The research planned for the center on catalysts, many of which are liquid acids that are environmentally harmful and produce carcinogenic or otherwise-dangerous byproducts, will focus on using solid acids -- which aren't environmentally harmful -- and dense-phase carbon dioxide to perform the same functions as the liquid acids.
"The challenge is to come up with processes that leave minimal environmental footprints yet are economically viable," Subramaniam said.
That's why industry partners have been recruited to help guide the research. So far, five members have signed on: DuPont, Chevron Phillips, Archer Daniels Midland Company, Proctor & Gamble and Engelhard. Subramaniam said he hoped that number would increase to 20 after three years.
Subramaniam said the intellectual property agreement between the industry members and universities, which is in its final revisions, would allow the center's researchers to conduct basic research. Then, that basic research can be transferred to companies for more industry-specific detail work, or center researchers can contract with companies to complete the specific research.
Going green
Keith Hutchenson, senior research associate at DuPont, said his company's participation in the center made sense both from an environmental and an economic standpoint. Industries spend about $10.5 billion annually on waste disposal and cleanup.
"'Green' is both in dollars and green chemistry," Hutchenson said. "With increasing costs of waste disposal, things that make sense for the environment make sense economically, as well."
He said he expected it would be several years, possibly as long as six to 12, before any of the center's research could be used by his company.
But that's not slow progress, he said. That's the nature of scientific research.
"In general, I'm very happy with things," Hutchenson said. "They've come a long way in kicking things off. They have a challenge of pulling together a multi-university, multidisciplinary personnel into a coherent research project. That's a challenge. Now things are in place to continue with specific research projects that have percolated up."
Copyright 2018 The Lawrence Journal-World. All rights reserved. This material may not be published, broadcast, rewritten or redistributed. We strive to uphold our values for every story published.