There are places in the human heart that all the talk therapy and medication in the world can't quite touch.
That's where the healing power of spirituality -- and the hope, meaning and purpose that it can bring -- comes into play.
More than 100 social workers and other professionals, laypeople and those who have struggled with mental illness will explore that concept at a Spirituality and Mental Health Recovery Conference Thursday and Friday in Lawrence.
In keynote speeches, workshops and panels, participants will explore the powerful way a sense of personal connection to a transcendent force larger than oneself can be crucial to living with -- and recovering from -- chronic mental illness.
While it might seem like common sense, it's an idea that has only taken hold among social workers and other practitioners in the past 10 to 15 years, according to Ed Canda, a professor and chair of the doctoral program in Kansas University's School of Social Welfare.
"Connecting spirituality to (physical) health and mental health may be new for helping professionals, but it's not new for human beings. It's actually the oldest insight. All human cultures and religions have recognized the importance of spirituality for health and mental health," said Canda, an internationally known leader in this emerging field of study.
Canda founded the Society for Spiritual and Social Work in 1990 at KU. The organization, which continues to grow, has members around the world.
He will give opening remarks Thursday at the conference, on the topic "Some Meeting Points on the Spiritual Journey and the Journey of Mental Health Recovery."
Canda also will lead a Thursday workshop, "Spiritually Sensitive Mental Health Practice," and give a keynote speech Friday to introduce a panel that will discuss "Cultural Diversity and Spiritual Support Systems."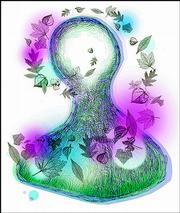 The conference, which will be at the Lawrence Holidome, 200 McDonald Drive, is funded by a grant from the United Methodist Health Ministry Fund of Hutchinson.
Hardwired for the divine
One of the presenters at the conference will be Priscilla Ridgway, a social worker who is finishing her doctorate in KU's School of Social Welfare.
Ridgway will moderate a panel Thursday, "Narratives of Spirituality and Mental Health Recovery," and lead a workshop, "Hope, Spirituality and Recovery."
Ridgway's doctoral dissertation, which she has been working on full time for a year, is on hope and recovery from long-term mental illness. Her research is based on 115 people in 10 focus groups across the country, as part of a larger national study.
"When people face a prolonged psychiatric disability, they often feel that they no longer have a future, so they begin asking themselves the big questions: Does my life have a purpose? Will my suffering ever end," Ridgway said.
"What I found is that, for some people, their journey of recovery and their spiritual journey is one and the same. Their spiritual journey is what enables them to hold onto hope."
What: Spirituality and Mental Health Recovery ConferenceWhen: 7:30 a.m.-8 p.m. Thursday and 7:30 a.m.-3:45 p.m. Friday.Where: Lawrence Holidome, 200 McDonald Drive.Deadline to register and pay: 5 p.m. Monday.More information: www.socwel.ku.edu, call 864-3804 or e-mail deebiem@ku.edu.
For many participants in her research, spiritual practices are the coping strategies they use to keep their minds focused on positive aspects of life and how to contend with suffering, especially emotional suffering.
Medication can often provide help, but it can't offer the kind of deep healing of the wounds some people have suffered.
"They have experienced trauma and severe loss, and that cannot be healed by the technical application of biochemical agents. You do not heal trauma just by taking a pill," Ridgway said.
"This is what people are asking for, in general: that they will be seen as whole people with body, mind and spirit."
Humans, she suggested, have a kind of hard-wiring for the divine that appears to be an essential part -- at least for some people -- of the healing process.
Touch of God's hand
Jim Kreider, an adjunct faculty member at KU who teaches graduate practice classes in the School of Social Welfare, has been studying the connection between spirituality and recovery for about a decade.
He will lead a Thursday workshop titled, "SIT: Spiritually Informed Therapy," designed to explore how to help people draw upon their spiritual resources.
"It seems to me like everything is spiritual, that we're spiritual beings living in a physical reality. It's how to bring those two (things) together in a way that is unifying, unitary and holistic," said Kreider, a social worker who also has a part-time clinical practice.
"For me personally, since everything is spiritual, it seems like I need to bring that into my work in a concrete, practical way. I'm trying to figure out how to be one of those practitioners who facilitates that healing touch of God's hand to the human heart."
People don't necessarily have to show up in the church pews every Sunday in order to experience healing through spirituality, Kreider said.
"What I'm trying to help people do in my workshop (next week) is have a sense of the non-physical resources. I have clients who communicate directly with their angels and their (spiritual) guides and their soul, even though they don't attend church at all. So this is available to everybody."
Copyright 2018 The Lawrence Journal-World. All rights reserved. This material may not be published, broadcast, rewritten or redistributed. We strive to uphold our values for every story published.