Denver — The Denver Broncos' defense is at or near the lead in almost every key category except the one many deem the most important.
With a measly five turnovers through six games -- three fumble recoveries and two interceptions -- the Broncos rank 27th, down there with Miami, San Francisco and a few other teams nearly guaranteed to be watching the playoffs, not playing in them.
"The turnover ratio has a high correlation to winning and losing and we're aware of that," safety John Lynch said Thursday.
It's still early in the season and the Broncos are 5-1, so nobody is panicking. That's especially true considering all the other good things going on with their defense.
Nobody gives up fewer yards than the Broncos (224 yards a game) and nobody has allowed fewer first downs (12 a game). Denver is second in the league in points allowed per game and, maybe most impressively, has yielded only three points in the fourth quarter.
But, as Lynch says, turnovers are a key barometer when it comes to wins and losses, and the Broncos haven't created many. Cornerbacks Kelly Herndon and Champ Bailey have the interceptions. Willie Middlebrooks, Mario Fatafehi and Kenoy Kennedy have the fumble recoveries. The five turnovers have led to 20 points, and those low numbers might help explain why only one of Denver's five victories has been a runaway. That was last week, a 31-3 win over Oakland in which the Broncos got two takeaways -- their season high.
"We know we are capable of getting them," Bailey said. "You look at film of us, we don't have a lot of opportunities. You look at other teams, and it's like they're throwing the ball right to a guy."
As expected, Bailey doesn't get many opportunities, which is precisely the reason the Broncos traded for him in the offseason. He has lived up to the hype as a shutdown cornerback, which means the ball rarely comes his way.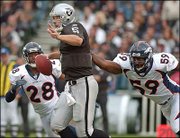 Pressuring the quarterback normally produces fumbles and interceptions, but it hasn't worked out that way so far for the Broncos. They've caused three fumbles on their 13 sacks, but have recovered only one.
One piece of good news is that Denver's next opponent, Cincinnati, has 11 giveaways, including eight interceptions by Carson Palmer.
"They typically come in bunches," Lynch said. "We got two last week, so hopefully that's a good start."
Copyright 2018 The Associated Press. All rights reserved. This material may not be published, broadcast, rewritten or redistributed. We strive to uphold our values for every story published.