Welcome to our online chat with Douglas County Dist. Atty. Christine Kenney, Republican.
The chat took place on Wednesday, October 20, at 1:00 PM and is now closed, but you can read the full transcript on this page.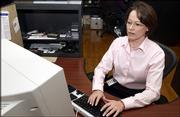 Moderator: Welcome to our chat with Douglas County Dist. Atty. Christine Kenney. She's here in the News Center and ready to take your questions.
Douglas County Dist. Atty. Christine Kenney: Thanks Dave. I'm very happy to be here this afternoon.
John, Lawrence, Ks: Approximately how many years do you and your staff have in prosecuting criminal cases? And how many felony criminal trials have you and your staff prosecuted?
Douglas County Dist. Atty. Christine Kenney: I appreciate that question John. I can't give you exact numbers, but I can tell you that our collective years of experience as prosecutors totals over 100. As far as the number of felony trials, again I haven't stopped to count, but I know the number is in excess of 200. Each of my current prosecutors, including myself, have worked our way up from traffic court to major felonies, while working under the supervision of more experienced prosecutors.
Jessie: I read the article in the LJW about the conviction rates. You said that 54% of felonies cases were convicted as felonies. Why do you think 54% is acceptable?
Douglas County Dist. Atty. Christine Kenney: Jessie, I'm glad you asked that question. The article in the Journal World resulted from information in a political ad. As a result of that ad, I researched all the verdicts handed down by Douglas County juries this year. What we found was that in 54% of the felony trials, the defendant was convicted as charged, or of another felony. In another 21%, the defendant was found guilty of a misdemeanor. In only 21% of the cases, the jury returned a not guilty verdict. Since that article, we have had two more felony trials resulting in guilty verdicts as charged, or to another felony (and no acquittals). As I have stated a number of times since taking office, I believe that we should be winning more trials than we are losing. However, if we are winning all of our trials, then we are not taking cases to the jury that deserve a trial. In addition, a comparison to other counties in FY 2003 showed that our conviction rate is equal to Shawnee Co. and Johnson Co.
Toby, Independence: I had the pleasure of interning for you last year and I must say I enjoyed the experience and the professional way you run the D.A.'s office. My question is this- What is your stance on the recent push to remove one of the local judges for reducing the sentence of a few men convicted in the rape of a minor despite the federal/state guidelines. Thanks!
Douglas County Dist. Atty. Christine Kenney: Great to hear from you Toby! It is always a pleasure to help students with an interest in law enforcement and prosecution, and I know you will be very successful in your career. I must apologize for not answering your question. I can not get involved in this campaign, and have made my position clear to both sides. My office is handling the appeal of those cases, and since they are still pending, it is not appropriate for me to discuss them. Good luck to you.
Mary - Lawrence: Why did the your office fail to make a written response to the departure motions filed by the defense in the rape case's heard before Judge Martin.
Douglas County Dist. Atty. Christine Kenney: Mary, I'm glad you asked that question. Typically, when any motion is filed by the defense, we wait until after the hearing ... whether it be a Motion to Suppress, or a Motion to Depart ... before any briefs are filed. The exception is when the Motion raises a new point of law. In the case you mention, there were no new points of law raised in the defendants' written motions. In addition, the statute requires the court to consider not just written Motions, but the evidence presented, statements of the victim or victim's family, and arguments of the attorneys. In this case I am confident that our office did everything we could to defend against the Motion to Depart, and make clear the position that the presumptive sentence should be imposed.
Jan, Lawrence: Why do you think experience in the DA's office is important? Can you describe how your experience as an Assistant DA has helped you to perform your duties as DA of Douglas County?
Douglas County Dist. Atty. Christine Kenney: That is an excellent question Jan. I started out in the DA's office under Jim Flory after being in private practice for 1 1/2 years. Although I had handled criminal cases as an attorney on the appointment panel, that really didn't prepare me for my job as a prosecutor. When I joined the Dg. Co. DA's office in 1989, I had the benefit of working with several experienced prosecutors who knew criminal law and procedure inside and out. I started my career as a prosecutor handling child in need of care cases, moved up to traffic, then misdemeanors, and finally as a felony trial attorney before running for office the first time. I honestly believe that what makes me effective as District Attorney is the fact that I know the workings of that office from top to bottom. I think the only way to understand what a prosecutor and the District attorney do, is to have the hands-on experience of working your way up through the office.
Lawrence: I recently attended a preliminary hearing where the victim had 1 days notice. Nothing at all was done to prepare this victim for what would be taking place. This is a very stressful time for these people .
Why does your office continue to do this. Is that what the Victims program is for? When will this change, it has been going on since you have taken office?
Douglas County Dist. Atty. Christine Kenney: Lawrence, I certainly understand how difficult the process is on our victims. There is no question that after experiencing the trauma of the crime, that we need to do everything possible to make the court process run as smoothly as possible. We currently have two victim advocates, one with over 15 years in the office, and one with over 10 years in the office, who work very hard to make sure all our victims and witnesses are notified of every step of the process. We review in excess of 4,000 investigations on adults each year, resulting in about 2,000 adult criminal cases filed. In addition, the State is under constitutional time constraints that require cases to be heard quickly...especially if the defendant is in custody. I know that each of my prosecutors works very hard to have personal contact with our victims and witnesses. Often times we are pressed to get our witnesses served before the hearing, especially preliminary hearings. We understand that the process is stressful and inconvenient and we work every day to resolve procedures to make the experience easier on our victims and witnesses.
Timothy, Lawrence: What do you consider to be the most significant differences between you and your opponent?
Douglas County Dist. Atty. Christine Kenney: I am glad you asked that question Timothy. I think there are major differences between my opponent and I, and those differences are very important in this race. For one, you cannot compare our experience. I have been a prosecutor for 15 years and in my career I have tried successfully major felony cases such as Murder, Kidnapping, Rape, Robbery, Burglary, Abuse of a child, and a wide variety of misdemeanors including domestic battery. My office also handles most of the crimes that occur in the City of Eudora, where my opponent works as the City Prosecutor. The job of our city prosecutors is very important, but the fact is that as city prosecutor he probably has not had a jury trial. Trying a case from the prosecution's perspective is significantly different than trying a case as a defense attorney. In addition, I have worked for the last 8 years as DA to build coalitions with many of our advocacy groups on matters such as Domestic Violence, Children's issues, Sexual Assault victim's services and Elder abuse concerns. I think these networks are crucial to addressing the needs of all our citizens. As a prosecutor, we must aggressively pursue those who have committed crimes in our community. But beyond effective prosecution, we must take a proactive approach to addressing the root of criminal behavior, and to educate our citizens how to avoid being victims. Finally, (and I say finally because I think Dave is giving me a look to wrap this up) I supervise a team of 23 full time employees, including 11 full time prosecutors who each year handle over 2000 adult cases, 500 juvenile cases, appeals, traffic, involuntary commitments, forfeitures, etc. The work load of the District Attorney's office is much larger than that of all other city attorney's offices in our county.
Moderator: This next question will be our final question for today's chat.
JT, Lawrence: I am aware there are three pending murder cases in Douglas County, what if any experience do you and your staff have handling murder cases.
Douglas County Dist. Atty. Christine Kenney: Unfortunately J.T., we have 4 pending murder cases, and two pending attempted murder cases, along with the other responsibilities of the office. I honestly don't know how many murder trials each of my attorneys have handled, but I can tell you that I have tried, I think 5 First Degree Murder trials, and of my 6 adult felony prosecutors, I believe 5 have tried murder &/or attempted murder cases. I think it's fair to say that the current prosecutors in the DA's office are some of the most skilled trial attorneys practicing in this county.
Moderator: Thank you for your questions today. And we thank our district attorney for taking time out of her busy schedule to come down to our offices.
Douglas County Dist. Atty. Christine Kenney: Thank you so much for this opportunity. I really appreciate it. This was a new experience for me.
Copyright 2017 The Lawrence Journal-World. All rights reserved. This material may not be published, broadcast, rewritten or redistributed. We strive to uphold our values for every story published.