When Kurt Busch dropped the window net and climbed out of his car after Saturday's Nextel Cup race at Lowe's Motor Speedway, there was this slightest of tastes in his mouth.
It was a tiny taste of winning this year's Chase for the Nextel Cup Championship.
His fourth-place finish at the Concord, N.C., track put his lead over second-place Dale Earnhardt Jr. at 24 points.
It also put the separation between himself and third-place Jeff Gordon at 74 points.
With five Chase races down and five to go, it now looks as if this playoff-type thing may have a favorite.
As slim of a favorite as that might be.
"I would say it's a front-runner's type race," Busch said of the rest of the Chase.
Busch got to the front by executing the strategy that he and his team set for the 10-race Chase.
He got there by being consistent.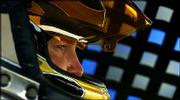 Busch won the first race of the Chase, which was at New Hampshire International Speedway.
He then notched fifth-place finishes at the next two races -- Dover and Talladega.
Then came his sixth-place finish at Kansas followed by his fourth-place finish at Lowe's Motor Speedway. Consistent.
In the Chase, he said, "It's a matter of executing every race perfectly and being able to bounce back quickly from mistakes and not drag your feet on making decisions. With the consistency that we've had, along with our win -- to win one of four races -- that's a pretty good average."
In auto racing, a driver's fate is never really in his own hands.

Equipment can fail, drivers can get caught up in other people's mistakes, and untimely yellow flags can all ruin well-laid plans.
About seven of the nine drivers chasing Busch will need him to encounter one or more of those variables in the next six races if they are going to get back into the Chase.
Busch knows he has to be careful not to give any of the others in the Chase any help as they chase him.
"Each race there are going to be guys (that) bump up and there are going to be guys that slide back," Busch said. "If we continue the pace that we're on, we'll be OK to set a nice pace for people to shoot for."
Those behind Busch are adopting different attitudes and strategies for catching and passing the current leader. Those strategies are based on how far they have to climb to catch and pass.
Earnhardt and Gordon can probably afford to remain with conservative strategies.
And that appears to be breeding confidence.
"If we get a top 10 at every race these last races, I'll be real proud of my team and myself," Earnhardt said. "That's what it's going to take to win this championship and that's probably what's going to happen."
Gordon said, "There's still a lot of racing left, and we're still very close. We haven't lived up to our potential in (the first five races of) the Chase.... We know we're better than that."
Most of the others know they are going to have to fight a bit harder.
Some know they may have to take some big chances in the final five races.
Elliott Sadler, who is behind Gordon and 157 points behind Busch, said he gambled on fuel strategy at Kansas.
He said he stayed out on a late pit stop even thought he risked running dry.
"It's the attitude we've got," Sadler said. "I said, 'Todd (Parrott, his crew chief), what do we have to lose? Who cares if we run out of gas with two or three laps to go? We came here to win this race. This is the best opportunity for us to win the race. Let's stay out.' And we did, and it ended up giving us a fourth-place finish, which is almost like a win to us because we outran everybody else that's in the points chase with us. That's the attitude we have."
Busch knows the nice taste he got Saturday could turn nasty Sunday at Martinsville.
"We could be leading going into next week and coming out of it," Busch said. "Or, we could be back as far as fifth. With the Nextel Chase for the Cup, we've been given a second opportunity, but we know we can lose it just that quickly."
Copyright 2018 The Lawrence Journal-World. All rights reserved. This material may not be published, broadcast, rewritten or redistributed. We strive to uphold our values for every story published.