Police in Fayette County, Ind., looked 10 years for Leman W. Booher, a man they said owed more child support than any other deadbeat dad in that county.
They finally found Booher in Lawrence. But when they issued a so-called governor's warrant asking that the man be returned to Indiana, the extradition requests were twice denied by a Douglas County District Court judge.
"I think the judge's actions are preposterous and shameful," Fayette County Sheriff Frank Jackson said Tuesday during a telephone interview.
Judge Paula Martin's actions have outraged officials in Fayette County, which has a population of about 30,000 people southeast of Indianapolis.
Law enforcers in Connersville, Ind., had been searching since the mid-1990s for the 54-year-old Booher. They say he's wanted for failing to pay more than $60,000 in child support for his three children.
"We have basically chased this person around the country since 1995," Fayette County Prosecutor Ken Faw said. "He's bounced from state to state to avoid prosecution."
Faw said no other delinquent dad from Fayette County even came close to owing as much as Booher.
'Such heartache'
When Booher was located in Douglas County in September 2003 and arrested on a governor's warrant with a $500,000 bond, no one was more relieved than Booher's ex-wife, the mother of their three children.
"My children have been waiting for 15 years and nothing has been done -- 15 years this problem has been going on," Bambi Boulware said.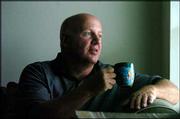 When Boulware filed for divorce in 1990, the stay-at-home mom was left to raise their three elementary-school-aged children on her own.
"I've raised the children the best that I could," Boulware said. "I worked 50 to 60 hours a week to do it."
Her children now range in age from 18 to 24, and despite the fact that they are now full grown, Boulware said she was not giving up on collecting the child support she's owed.
"I have not given up on it, and I won't," Boulware said. "As long as I'm alive, I will pursue this for my children. They have gone without so much. This has caused such heartache."
The news that a Douglas County judge had twice released her ex-husband did not make the situation any easier.
Twice rejected
Booher appeared before Judge Martin earlier this year after he refused to waive extradition to Indiana on the governor's warrant.
Typically a governor's warrant is issued when authorities in one state want a suspect brought back to their state to face felony charges.
Douglas County Dist. Atty. Christine Kenney, whose office handled Booher's case twice, said it was rare for the subject of a governor's warrant not to be returned to the jurisdiction where the crime allegedly took place.
"It is very unusual," Kenney said. "It very rarely happens because there are very few legal defenses."
During the first extradition hearing Feb. 19 in Martin's courtroom, the judge found Booher was a "fugitive," but also ruled there were technical problems with the warrant. For instance, Martin found the prosecuting attorney failed to include the amount of child support Booher owed in the affidavit. Martin denied the extradition.
Prosecutors in Indiana immediately sought a second warrant, changing the time frame for which Booher owed money and claiming he owed nearly $56,000 in child support.
On Aug. 13, Martin again declared the warrant invalid, ruling "the State of Indiana failed to sufficiently charge a crime."
Martin did not comment on her decision; instead, her assistant suggested the case files be reviewed or that questions be referred to Booher's attorney in Topeka.
"The judge made the right decision," Topeka attorney Billy Rork said.
Rork, who has been an attorney the past 26 years, said there were two types of governor's warrants, and the one issued by Indiana in this case was a discretionary warrant, because the crimes allegedly took place when Booher was out of the state.
"No one ever challenges it," Rork said, "but both times Indiana failed to allege facts that constituted a crime."
Living in fear
The man at the center of the controversy said that was because no crime had been committed.
"I've always paid child support when I was working," Booher said.
Booher has been living in the Douglas County area since 2001. He's now living in student housing on the Kansas University campus with his new wife and four adopted children. Booher's wife is pursing a doctorate at KU, while he is finishing up work on a master's degree in business at Ottawa University. He works part time for a local construction company, he said.
"This has basically been a nightmare for me," Booher said. "It's very stressful. I typically bury it until something brings it up, then all the emotions come out."
Booher claims the charges filed against him in Indiana are invalid and untrue. He said he lived in fear every day of being arrested and thrown in jail.
That fear apparently was well-founded.
Janifer Booher said police arrested her husband about 6:20 p.m. Wednesday, just moments after a story about her husband appeared on 6News.
"We got home from parent-teacher conferences, and they were waiting in the parking lot," she said.
She said she sent her children inside, as a KU Public Safety officer and another from the Lawrence Police Department handcuffed her husband and took him to jail. According to Janifer, their only explanation for the arrest was that they had received a tip that a fugitive was living there.
Janifer Booher said she tried to explain to the police that her husband had already gone through the court system here on the warrant.
She said the officer replied, "He'll appear before a different judge tomorrow."
'More than frustrating'
Before his Wednesday arrest, Leman Booher said he had been dealt with fairly by Judge Martin.
"She was being fair with me," Booher said. "It's the first time I've ever had the opportunity to tell my side of the case."
He said if he owed any back child support at all, it would be a very small amount because his current salary was not the same as it was when the original child support payments were calculated. Booher said authorities in Indiana had blown his case out of proportion.
"I'd like to go back to Indiana and address this, but I can't post a half-million-dollar bail," he said. "I don't want to be in jail during the time frame, and I don't really trust the legal system there in the community."
Meanwhile, the legal proceedings in Douglas County have the top prosecutor in Fayette County pulling his hair out.
"It's more than frustrating," Faw said. "This has never happened. I've never encountered anything like this before."
Copyright 2018 The Lawrence Journal-World. All rights reserved. This material may not be published, broadcast, rewritten or redistributed. We strive to uphold our values for every story published.