WATERLOO, IOWA — President Bush and challenger John Kerry accused each other of misjudging the stakes and lacking the leadership to deal with Iraq and terrorism as they campaigned 60 miles apart Wednesday in Iowa, a state Bush narrowly lost four years ago.
"The next commander in chief must lead us to victory in this war, and you cannot win a war when you don't believe you're fighting one," Bush said in Mason City, a northern Iowa farming community. "My opponent also misunderstands our battle against insurgents and terrorists in Iraq, calling Iraq a 'a diversion from the war on terrorism."'
Kerry, campaigning in Waterloo, said Bush failed to grasp what the United States faced in Iraq, where more than 1,100 U.S. soldiers have been killed. "If President Bush cannot recognize the problems in Iraq, he will not fix them. I do recognize them, and I will fix them."
With time running out before the Nov. 2 election, national polls say the race is very close, with some showing a slight advantage for Bush. Polls in key swing states like Florida, Ohio and Wisconsin also show the two candidates running about even.
Iraq and terrorism dominated the debate Wednesday as Bush focused on Iowa, Minnesota and Wisconsin -- all states that went against him four years ago and where polls show him in a close race with his Democratic rival.
After Iowa, Kerry had a rally in Pittsburgh with supporters, including singer Jon Bon Jovi, actor Ted Danson and Hall of Fame football player Franco Harris, before retiring to Ohio for the night. Four years ago, Bush lost Pennsylvania and won Ohio; this year the race is tight in both states.
Leadership questions
"The president says he's a leader. Well, Mr. President, look behind you, there's hardly anyone there," Kerry said, pointing out considerable allied opposition to the war. "It's not leadership if we haven't built the strongest alliance possible and if America is going almost alone."
Saying Bush was trying to focus the election on national security, Kerry said, "I welcome that debate. I believe a president must be able to defend this country and fight for the middle class at the same time."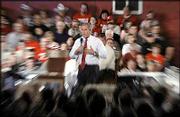 Bush, trying to depict his opponent as lacking the credentials to be commander in chief, said Kerry was guilty of "a fundamental misunderstanding of the war we face and that is very dangerous thinking."
He said the threat posed by Abu Musab al-Zarqawi, a Jordanian terrorist who has pledged allegiance to Osama bin Laden and is believed behind beheadings in Iraq, "shows how wrong" Kerry's thinking is.
"If Zarqawi and his associates were not busy fighting American forces, does Senator Kerry think he would be leading a productive and useful life?" Bush asked. "Of course not. And that is why Iraq is no diversion."
Kerry said the Bush administration claimed there was a connection between Saddam and al-Zarqawi as justification to go to war in Iraq, but a CIA report found that was not true. He said al-Zarqawi was operating out of "no man's land" in northeastern Iraq, reportedly producing ricin, a biological weapon.
"We could have, but did not, take them out," Kerry said. "That was a terrible mistake that this administration has never explained."
Apology to Laura Bush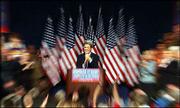 While Kerry and Bush traded charges, there was a moment of embarrassment -- and an apology -- from the senator's wife over her remarks about first lady Laura Bush.
Teresa Heinz Kerry, in an interview published by USA Today, had said she didn't know if Laura Bush had ever had "a real job":
"Well, you know, I don't know Laura Bush. But she seems to be calm, and she has a sparkle in her eye, which is good," Heinz Kerry said. "But I don't know that she's ever had a real job -- I mean, since she's been grown up. So her experience and her validation comes from important things, but different things."
Laura Bush worked in public schools in Texas from 1968 to 1977, the year she married George W. Bush.
In a statement issued Wednesday, Heinz Kerry said: "I had forgotten that Mrs. Bush had worked as a school teacher and librarian, and there couldn't be a more important job than teaching our children. As someone who has been both a full-time mom and full-time in work force, I know we all have valuable experiences that shape who we are. I appreciate and honor Mrs. Bush's service to the country as first lady and am sincerely sorry I had not remembered her important work in the past."
Gordon Johndroe, a spokesman for Mrs. Bush, said the first lady was not upset by the comments.
"Mrs. Bush knows it's not always easy when your husband runs for president," Johndroe said. "She knows that some days there's lots of interviews where lots of things are said, and knows that everyone looks forward to Nov. 2 coming around."
Where the presidential and vice presidential candidates plan to campaign today:John Kerry: Poland and Columbus in Ohio, and Minneapolis; overnights in Milwaukee.John Edwards: Muscatine and Iowa City in Iowa; overnights in Palm Beach Gardens, Fla.President Bush: Downingtown and Hershey in Pennsylvania; overnights in Washington, D.C.Vice President Dick Cheney: Sylvania, Ohio, and Ashwaubenon, Wis.
Copyright 2018 The Associated Press. All rights reserved. This material may not be published, broadcast, rewritten or redistributed. We strive to uphold our values for every story published.