New York — After watching world events unfold, after hearing of too many deaths in too many places, Good Charlotte had something to say.
The pop-punk band known for twentysomething angst said it in "We Believe" -- a song about the death of an American woman's son in Iraq and those who made the decisions to send people like her boy to war.
"We're not a political band. Music is what took us away from our problems," said guitarist/songwriter Benji Madden. "But sometimes life is too heavy and it is too hard, and you need to take a look at what's going on around you."
The hardest-fought election in decades hasn't just played out in television and radio ads. It hasn't just been spread across the pages of glossy magazines or quick turnaround celebrity books. Musicians are powering up their guitars, sitting down at their pianos and jumping into the fray.
Musicians have long been involved in political and social movements, from Woody Guthrie to Bob Dylan and James Brown to Public Enemy and John Mellencamp. But the latest incarnation of musical activism is bleeding across an astonishing number of genres and ages, giving voice to those often mute about election-year politics.
'It's in style'
In the past few weeks alone, Bruce Springsteen has launched his "Vote for Change" tour, the benefit to defeat President Bush; Green Day's punk-rock opera "American Idiot," which lambastes the president, debuted at No. 1; Russell Simmons' Hip Hop Action Network has plugged in its star wattage -- from Beyonce to P. Diddy to Will Smith -- to register voters; and Travis Tritt, a Republican, and Mellencamp, a Democrat, have paired on "What Say You," a duet calling for political tolerance.
"I've always stood back from partisan politics. ... I felt that was the best way to go. I've done that for 20 years," Springsteen told the AP. But "In this particular election the decision is so clear, and the potential result so important to the country, that myself, along with a lot of other musicians and artists, felt democracy in the end is something you do."
Simmons said the involvement by musicians and performers in this political year was notable compared with other recent elections. Last year, he couldn't get people to do public service announcements to push voter registration. This year, he has many celebrities to choose from.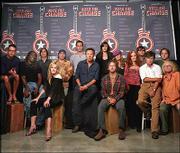 "All of them have something to say. It's in style," Simmons said.
Potentially polarizing
Although most of the musical and political social statements are coming from those supporting Sen. John Kerry's bid for president, there is an active musical voice supporting Republicans. Recently, Kid Rock performed at a party honoring House Speaker Dennis Hastert during the Republican National Convention. Country singer Lee Ann Womack hit the campaign trail with Bush to sing her hit "I Hope You Dance" at a rally in Ohio. The Gatlin Brothers and Brooks & Dunn also performed during the convention.
Not everyone, though, believes speaking out is appropriate.
"The thing that artists have to realize, and a lot of them do and some don't, if you do come out and make your political feelings known, you are going to polarize people," Tritt said.
"I don't think I've ever seen the left so far left and the right so far right. There's very little middle ground right now," he said. "I am not naive enough to believe I have all the answers."
Rocker Alice Cooper has said people shouldn't vote for a presidential candidate based on what a rock star has to say. But much of the musical discussion is coming from bands and performers that target the 18- to 24-year-olds, traditionally the least likely age group to vote.
"For a 16-year-old high school student, most of his or her life has been spent in a time of unparalleled prosperity that would quickly become a time of unthinkable danger," said Joe Levy, deputy managing editor of Rolling Stone magazine. "It's by no means a surprise to find musicians or other young artists reacting to this."
Copyright 2018 The Associated Press. All rights reserved. This material may not be published, broadcast, rewritten or redistributed. We strive to uphold our values for every story published.