New York — A classic series deserves a classic finish.
This ALCS between the New York Yankees and Boston Red Sox has heroics and heartbreaks, arguments and reversed calls, diving catches and basepath blunders, hot bats and bizarre slumps, rainy days and endless nights.
And now it has Game 7, seemingly inevitable at the start, ridiculously farfetched a few days ago when the Yankees led three games to none and Red Sox ace Curt Schilling appeared done with a season-ending, surgery-impending ankle tendon tear.
It's a short story transformed into a great American League novel, a championship series that is setting records by the inning and the hour.
Fans from Beantown to the Bronx, Sox Nation all over the map and Yankeeland around the world are caught up in an exhausting, feverish drama that is extraordinary even by the abnormal standards of this long, passionate rivalry.
Schilling turned Game 6 on Tuesday night into a stage to put on one of the gutsiest performances of his -- or anyone else's -- career after doctors came up with a way to hold his bum ankle together. Blood on his sock from the stitches that kept his tendon from popping in and out, he bore down between winces of pain, cranked his fastball up to 95 mph and did what he tried to do in Game 1.
Schilling got shelled in that opener, his ankle too weak to allow him to push hard off the rubber, but he came back with a vengeance to lead the Red Sox to a 4-2 victory and give them a chance for a trip to the World Series.
He didn't wear the rush-order boot that was made for him, but he brought an extra level of hope and inspiration to a Red Sox team that already was playing on fumes after two unreal comebacks.
"You can talk all you want about that (ankle) area, but his heart is so big," Boston manager Terry Francona said.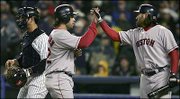 Schilling attributed his performance to his faith, and the work of his doctor and trainer, rather than his tolerance for pain.
"I prayed as hard as I could," he said. "I didn't pray to get a win or to make great pitches. I just prayed for the strength to go out there tonight and compete, and He gave me that. I can't explain to you what a feeling it was to be out there and to feel what I felt."
These two teams had the best records in the American League. They fought each other in the front office before the season began, the Red Sox signing Schilling with the idea of beating the Yankees, and the Yankees getting Alex Rodriguez after his trade to the Red Sox fell through. Boston tried to match New York's closer, Mariano Rivera, by signing Keith Foulke, and he came through with the save Tuesday night, running his pitch total to 100 over the last three games.
These teams fought on the field during the season in a brawl that triggered Boston's second-half resurgence, and anything short of a seventh game just wouldn't seem fitting.
"I'm just so proud to be a part of this team," Schilling said. "We just did something that has never been done. It ain't over yet. ... I'm feeling pretty special about being a part of this club right now."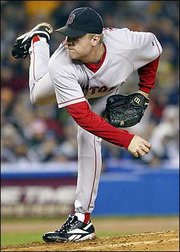 No one is talking about curses or auras now, not after the way the Red Sox have been getting the bounces and the calls the last three games. In Game 6, two huge calls went their way, the first a reversal that gave Mark Bellhorn a home run in the fourth inning, the second a reversal that erased a Yankee run in the eighth.
Now the series comes down to a Game 7 crapshoot.
Neither the teams nor their fans had any idea what to expect after watching the three-game set in Boston.
Who could figure that the Yankees, after a rainout Friday night, would unleash a torrent of 22 hits in a 19-8 drubbing of the Red Sox at Fenway Park in a Game 3 that set all kinds of records?
At 4 hours, 20 minutes, it was the longest nine-inning postseason game in history with the most hits by both teams (37) and the most extra-base hits (20). It set championship series records for most runs by one team, most runs by both teams, most extra-base hits by one team (New York's 13) and most doubles by both teams (13).
There was everything a fan could ask for in those first six games, and now there's more to come.
Copyright 2018 The Associated Press. All rights reserved. This material may not be published, broadcast, rewritten or redistributed. We strive to uphold our values for every story published.