St. Louis — Looks like the Greatest Show on Turf is in high gear -- on offense and defense.
Torry Holt caught two long touchdown passes, and Adam Archuleta returned a fumble 93 yards Monday night, keying the Rams' 28-21 victory over Tampa Bay. One week after a sensational late comeback in a victory over Seattle, the Rams (4-2) used a bunch of big plays, including forcing four turnovers.
"That's something we wanted to establish as a defense," Archuleta said. "We hadn't been getting turnovers through the preseason and the first few games."
St. Louis came in with just two takeaways.
The victory gave St. Louis sole possession of the NFC West lead, a half-game in front of the Seahawks. It also was coach Mike Martz's first win in four tries against Tampa Bay -- all Monday night games.
The Bucs (1-5) got to the St. Louis 15 on the final drive, but Aeneas Williams forced Tim Brown's fumble, and Jerametrius Butler recovered.
Holt beat double coverage to haul in a 36-yard pass from Marc Bulger with 10:46 remaining for the winning touchdown. The All-Pro receiver had a 52-yard TD on the first series and finished with six catches for 124 yards.
"We put it together tonight for some big plays," Holt said. "I wish we could wind it back to '99 and make it look easy. But now it's a challenge to us as football players and as a team to get those big plays."
Marshall Faulk had his 100th career rushing touchdown, a one-yarder in the second quarter that tied it 14-14.
Archuleta made his steal midway in the third quarter, one play after Ian Gold's 31-yard interception return put the Bucs at the St. Louis 15. Michael Pittman ran left to the seven, where he was stripped by the Rams' safety, who sped untouched down the left sideline.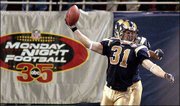 Bucs coach Jon Gruden challenged the play to no avail.
"It's very frustrating," Pittman said. "I had one of the biggest turnovers, and I feel bad about it. I feel like I let my teammates down. Turnovers killed us."
A fumble then helped the Bucs. Greg Spires' second sack of the game shook Bulger, who lost the ball at his 20. Anthony McFarland recovered, and it led to Will Heller's one-yard TD catch, tying it at 21 heading into the fourth quarter.
Brian Griese was sharp, and Michael Clayton was sensational on Tampa Bay's first two touchdown drives. Griese completed his first nine passes, including throws of 19 and nine yards to the rookie on the first scoring drive, which concluded with Mike Alstott's one-yard run.
Early in the second quarter, Clayton beat DeJuan Groce deep for 44 yards, setting up a third-down, five-yard toss to Pittman for a 14-7 lead.
St. Louis' sloppiness was costly when an illegal block penalty negated Shaun McDonald's 82-yard punt return late in the first period. But then the Bucs made a more critical mistake.
On third down from their seven, John Wade's snap never made it to Griese, even though the quarterback was set up behind center, not in the shotgun. Leonard Little dived on the ball for St. Louis at the five.
Copyright 2018 The Associated Press. All rights reserved. This material may not be published, broadcast, rewritten or redistributed. We strive to uphold our values for every story published.