Jean Ann Pike likes to say something you don't often hear: "I love my job."
Pike has managed the Lawrence Social Service League thrift store, 905 R.I., for four years.
"I wake up every morning delighted I've woken up, just thrilled to death to be here," Pike said.
Pike also is among the rare breed who have braved going to college at an age when many people have settled comfortably into the home stretch of their careers. In 1989, she and her husband, Bill, worked on a milo and wheat farm in Marysville, and they needed new equipment. Buying the equipment would have required taking on a lot of debt, so they both decided to give up farming and attend Emporia State University.
Pike never looked back.
"I learned more about myself in those years than I ever did before. I never had so much fun," she said.
Pike studied sculpting and her husband studied sociology. When they graduated, the Pikes said to themselves, "Where do we want to go now?" They knew they wanted to stay in the Midwest.
"Lawrence didn't have a lot of competition, and I had a daughter and grandchildren here," Pike said. They moved to Lawrence eight years ago.
Pike began volunteering at the Lawrence Interdenominational Nutrition Kitchen and the Social Service League thrift store soon after moving here. She now manages the thrift store, and is still involved with LINK. In September, Pike received the Humanitarian Contribution Award from the Lawrence Board of Realtors.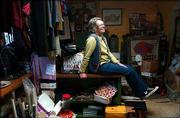 Q: How did you first become involved with the Social Service League?
A: The first week we were in town, my daughter said, "Mom, you've got to check out this thrift store. You're going to love it." And it was this one. By the second week I was down here volunteering. I've been connected to this place since I first moved here eight years ago. And I really wanted this job someday.
Q: Did you grow up with a volunteer ethic?
A: My dad was a volunteer. He volunteered for the chamber of commerce and the Salvation Army in his town (Fremont, Neb.). I was brought up thinking this is just something you do. You've got a good life; you give part of it back. Lawrence is a perfect town for that. We've got a great, diverse population.

Q: What's your favorite part of Lawrence?
Birth date: Nov. 16, 1950.Hometown: Lawrence.Family: Bill, husband; Fadra Mitchell, daughter; Eric and Bill, sons.Occupation: Manager of the Lawrence Social Service League's thrift store.Education: Bachelor of Fine Arts degree in sculpting, Emporia State University, 1994, and Archbishop Bergan Central High School, Fremont, Neb.Favorite book: "To Kill A Mockingbird," by Harper Lee.Favorite Lawrence place: The Bourgeois Pig, 6 E. Ninth St.
A: My life takes place in East Lawrence. I rarely go beyond Vermont Street. I never have to drive. In that regard, I'm still living in small-town Kansas.
Q: Does it seem overwhelming sometimes, the amount of stuff you have to organize, and deciding what to keep or discard?
A: Yeah. I told my board of directors that for Christmas I'd like a pin like the kind that says Store Administrator, but instead I want mine to say Pilot because that's what I do. I pile it here and I pile it there.

Q: What percentage of stuff do you throw out?
A: We don't throw out that much because we're connected with another organization that's connected with the rag market. So what we turn down in the way of clothing or cloth goods, we pass on to them.
Q: What's the rag market?
A: It used to be bigger than it is right now. Basically, they bale this stuff up and then go pick through it for the cotton to make rags out of, or to grind down for insulation. A lot of it they bale and send it to Third World countries. So when you see a National Geographic photo of a kid running around in a Gap T-shirt, that's part of the rag market.
They'll also take books and shoes from us, too.
Q: What items are the hardest to sell?
A: Bad mattresses and hideaway couches are almost impossible to get rid of. I also can't pick them up. That's what it comes down to. What we need are nonperishable goods for our food pantry, preferably canned goods, so mice can't get to them.
Q: What do you like to do with your free time?
A: I like to read trashy adventure. Right now, Clive Cussler is my favorite author. It's pure trash. It's escapist. And then I've got a little art studio I like to fiddle in.
Q: What item has been in the store the longest?
A: There's this little statue of a homeless guy that I like. He reminds me of Three Bag John, a homeless guy who used to live in Lawrence. It was here when I first started. Also, I'm not religious, but I have a little statue of St. Jude, the patron saint of hopeless causes, in my kitchen. Because he belongs there.
Q: What is it about Lawrence you like most?
A: The diversity. I mean, let's face it, most towns in the Midwest, everybody's the same. But here, you go for coffee in the morning and at the next table, you have no idea what language they're speaking. I meet people from all over the world here. I like how the younger people are so open to the older people, because I'm starting to slide into that "older people" category. That doesn't happen everywhere. Lawrence is liberal, and I like it. That's going to get me in trouble.
Copyright 2018 The Lawrence Journal-World. All rights reserved. This material may not be published, broadcast, rewritten or redistributed. We strive to uphold our values for every story published.