The Prague Philharmonia has grown from modest beginnings to become one of the major classical orchestras of the world.
Lawrence is one of six cities -- and the only location between New York and California -- chosen for the group's first North American tour.
The orchestra will play at 7:30 p.m. Tuesday at the Lied Center.
It originated in 1992 as the Giovanni virtuosi da camera. The group evolved into the New Czech Chamber Orchestra in 1993 under the direction of conductor Jiri Belohlavek, and burst onto the Czech musical scene in November of 1994 with its first official concert as the Prague Philharmonia. The performance won an award for most important musical event of the year.
The Prague Philharmonia is modeled after the Viennese classical orchestra, flexible in size according to the needs of its repertoire. The Prague orchestra performs works ranging from string and wind ensembles to full symphonic orchestra, focusing on masterpieces of the Classical and Romantic eras and music of the 20th century.
During 2004, the international "Year of Czech Music," the Prague Philharmonia has been presenting concerts throughout the United States, France, Britain, Germany, Italy, Switzerland, Belgium and Japan under the auspices of the Ministry of Culture of the Czech Republic.
The orchestra's Lied Center performance will include Dvorák's Concerto in A minor for Violin and Orchestra, Op. 53; Mozart's "Marriage of Figaro Overture" and Beethoven's Symphony No. 7 in A major, Op. 92.
What: Prague PhilharmoniaWhen: 7:30 p.m. TuesdayWhere: Lied Center, 1600 Stewart DriveTickets: $18.50-$42Ticket info: 864-2787
The group will be conducted by Bohumil Kulinsky, music director of the Prague National Opera Orchestra, and will feature violinist Ivan Zenaty, a Tchaikovsky Competition Laureate and winner of the Prague International Competition.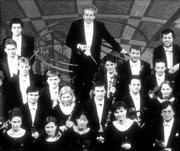 Copyright 2018 The Lawrence Journal-World. All rights reserved. This material may not be published, broadcast, rewritten or redistributed. We strive to uphold our values for every story published.