Joe Nemechek nearly let Ricky Rudd slip up on him Sunday in the Banquet 400 at Kansas Speedway.
"I guess I should have been looking in my mirror," Nemechek said after holding off Rudd on a dramatic final lap to score the victory. "But I was too busy trying to pay attention to where I was going."
That statement does a pretty fair job of summing up Nemechek's career in NASCAR's top series. The 41-year-old veteran continues to display remarkable resilience in a career that seems like it usually has him running uphill.
"All I can ask my guys is to give me something good to drive," Nemechek said. "If it drives good at the end of the race, we'll have a shot at winning. And I'll be darned it didn't come our way today."
Nemechek hasn't had the luxury of just having good things just come his way in the Nextel Cup Series. He's had precious little opportunity to look in the mirror and reflect on the good things he's done because he has been far too busy looking forward and trying to find the right place to go.
In 1999, Nemechek got his first win career win at New Hampshire while driving for car owner Felix Sabates after he'd already decided to leave that team. He won at Rockingham late in the 2001 season for car owner Andy Petree, but that team had lost its sponsor and didn't return for 2002.
He started '02 with Travis Carter, but that team's sponsorship disappeared after just seven races. He wound up at Hendrick Motorsports later that year, and won a race in that team's No. 25 Chevrolet at Richmond in May of 2003.
Late last year, though, he wasn't so much let go by Rick Hendrick as he was outsourced to MB2 Motorsports, a team that uses Hendrick engines and is in other ways also associated with that superteam. Nemechek then started 2004 in the No. 01 Chevrolets -- after a switchover from Pontiacs -- as the replacement for the injured Jerry Nadeau.
Through it all, Nemechek kept on driving hard.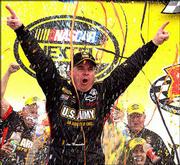 Nemechek and crew chief Ryan Pemberton both said Sunday that they've had better cars in other races this year, but that everything just didn't come together the way it did at Kansas.
Nemechek has finished seventh or better in three of the past four Cup races and comes to Lowe's Motor Speedway at the end of the week riding momentum from wins in the Cup and Busch series at Kansas. He has also won poles for the past two Cup races.
But all of that is in the mirror now.
Copyright 2018 The Lawrence Journal-World. All rights reserved. This material may not be published, broadcast, rewritten or redistributed. We strive to uphold our values for every story published.