KANSAS CITY, KAN. — Once the symbolic center of the Free State movement that sparked the Civil War, downtown Lawrence's Eldridge Hotel sparked a bidding war Tuesday in U.S. Bankruptcy Court.
An investment group led by former Kansas University football All-American Bobby Douglass and Texas attorney and KU alumnus Mitchell Chaney paid a surprising $2.92 million at a bankruptcy auction for the 48-room hotel, 701 Mass.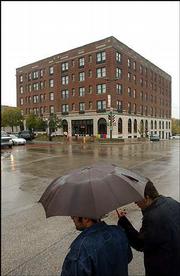 "We just bought the best corner in Kansas," Douglass told an attorney who offered congratulations after the winning bid was accepted.
The group said it would continue using the building as a hotel and expected to take ownership of the business in 10 days or sooner.
"The hotel certainly needs to be energized," Chaney said. "There's a lot of deferred maintenance that needs to be done. But it is an awesome location in an awesome community and downtown is just so vibrant."
During a nearly three-hour auction, the property, which is listed on the National Register of Historic Places, drew four bidders. Officials with Baldwin-based Mid-America Bank made an opening bid of $1.93 million to cover the real estate taxes and the amount of the loan the bank had made to the bankrupt hotel. A group that included Steve and Seth Traxler, a pair of KU graduates from Chicago, and Bob Werts, and owner of downtown's Waxman Candles, stopped bidding at the $2.35 million mark. From that point it became a horse race between the Chaney/Douglass group and a trio of Lawrence investors -- developers Doug Compton and Bill Newsome and hotel operator Stephen Craig.
The two groups went back and forth a total of 35 times, mainly increasing their bids by $10,000 at a time but occasionally by as much as $30,000.
The Compton group bid as high as $2.91 million but would go no higher when the auction resumed after a lunch break.
"We stayed in the bidding process to a number that made sense to us," Compton said. "When it exceeded that number, we didn't feel like it made sense to stay in. But the good news is that the Eldridge Hotel is in good hands. They have the same interests we did and that's for the Eldridge to be a strong hotel in downtown Lawrence."
Compton said the final price of $2.92 million surprised him. Rob Phillips, the current general manager and majority owner of the hotel, said it also exceeded his expectations.
Thomas Mullinix, an attorney for the Eldridge, said he expected the sale price was enough to pay all creditors owed by the hotel. He said they likely would be paid in the next three months. He said the sale price also likely would allow Phillips and a group of 22 investors who own shares in the hotel to receive a total of $250,000 to $350,000.
Phillips, who will not be part of the new management team, previously had rejected a $2.3 million offer from the Chaney/Douglass group because he said it was inadequate to pay all the hotel's creditors.
"I held out so all the creditors would get paid in full and that's going to happen," Phillips said. "And the fact that the investors are going to get some money back is icing on the cake.
"My hat's off to Doug Compton, for pushing the bidding up that high, to the Chaneys for sticking with it, and to the city of Lawrence for creating a downtown environment that allows this building to attract that type of price."
Chaney said his group hired a hotel consultant who had reviewed the hotel's operations and deemed it worth the $2.92 million price tag. Douglass, who after leaving KU and retiring from the National Football League in 1978 entered the Chicago restaurant business, said he expected significant upgrades to both the hotel and its restaurant and bar operations.
"But it is still going to be a historic hotel," Douglass said. "We would be crazy not to use its rich history."
¢ 1855-1856: The Free State Hotel is built by settlers from the New England Emigrant Aid Society.¢ 1856: Pro-slavery forces destroy the hotel. Col. Shalor Eldridge rebuilds it.¢ 1863: The hotel is destroyed again, this time by William Quantrill and his raiders. Eldridge rebuilds again, re-naming it after himself.¢ 1925: The deteriorating hotel is rebuilt.¢ 1970: The Eldridge is converted to apartments.¢ 1985: Lawrence developer Rob Phillips spearheads redevelopment of the hotel. The city commits $2 million in industrial revenue bonds.¢ June 2003: Officials from the Kansas Department of Revenue raid the hotel to collect unpaid taxes.¢ December 2003: The hotel files for bankruptcy protection after defaulting on a $1.3 million loan from MidAmerica Bank and owing nearly $500,000 in federal, state and county taxes.¢ Tuesday: Group led by former Kansas University quarterback Bobby Douglass and Brownsville, Texas, attorney and KU graduate Mitchell Chaney submit winning $2.92 million bid at bankruptcy auction.
Copyright 2018 The Lawrence Journal-World. All rights reserved. This material may not be published, broadcast, rewritten or redistributed. We strive to uphold our values for every story published.