By the time he died, Christopher Reeve had at last "escaped the cape" -- he had become bigger than the Superman character he portrayed on screen.
Reeve championed cutting-edge research into spinal cord injury, offering himself as a guinea pig for new therapies and vowing he would one day walk again. He never did. But his dream is now a plausible one for thousands of others who are paralyzed.
"The biggest hope is in biological research to allow the spinal cord to heal itself and even regenerate. That's just over the horizon but closer than ever before. Most people feel within the next 10 to 15 years, somewhere within our lifetimes," said Dr. Jack Ziegler, president of the American Spinal Injury Assn.
Some even thought it would come in time for Reeve.
"I thought it was going to happen," said Dr. Doug Kerr, a Johns Hopkins University neurologist who works with stem cells -- controversial research that Reeve advocated with superhuman strength even as he wheezed through a respirator from his wheelchair.
"It was 'Star Wars' science-fiction, this concept of rewiring the nervous system," but Reeve "thrust this field forward by leaps and bounds," Kerr said.
Reeve died Sunday after developing a serious bloodstream infection from a bedsore, a common problem for paralyzed people. He went into cardiac arrest Saturday at his home in Pound Ridge, N.Y., then fell into a coma, dying the next day at a hospital. His wife, Dana, and other family members were with him.
As an actor and a man, Reeve embodied strength and athleticism and performed his own movie stunts, including his 1978 starring role as Superman. It made him famous but he longed to, as he often put it, "escape the cape" and take on other characters.
But real life -- not a movie -- gave him the best opportunity to shed the cape and show extraordinary human powers. Reeve suffered one of the most severe spinal injuries possible when he was thrown from his horse and broke his neck during an equestrian competition in May 1995.
Aided by access to the best medical care available, Reeve endured years of therapy to allow him to breathe for longer periods without a respirator while tenaciously seeking a cure that would allow him to walk again.
"I refuse to allow a disability to determine how I live my life. I don't mean to be reckless, but setting a goal that seems a bit daunting actually is very helpful toward recovery," he said.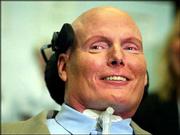 He sparked hope even in many skeptics in 2000, when he was able to move an index finger. Motivated by success, he thrust himself even harder into workouts to strengthen his legs and arms. Electrical stimulation of his muscles allowed him to regain sensation in some other parts of his body.
Treatments advanced, too. Improvements in surgical techniques helped stabilize the spine more, and electrical stimulation and exercise therapy have helped many, according to Ziegler.
As Reeve transformed his body, he morphed into an advocate, first for better benefits for people with long-term disabilities, and then for science to help the 250,000 Americans who suffer paralysis. The Christopher Reeve Paralysis Foundation has given $40 million to spinal cord research since he merged it with the American Paralysis Foundation in 1999.
Some of that has been for embryonic stem-cell research, a promising but contentious field of medicine that the Bush administration has severely restricted because it involves destroying embryos. Scientists think these early, all-purpose cells can be coaxed to form nerves and specialized tissues to repair a host of woes.
Reeve and fellow actor Michael J. Fox, who has Parkinson's disease, have helped make stem cells a major campaign issue between President Bush and Sen. John Kerry. Kerry even mentioned Reeve during the second presidential debate Friday and praised him Monday in remarks before a speech in Santa Fe, N.M.
"He was an inspiration to all of us and gave hope to millions of Americans who are counting on life-saving cures that science and research can provide," Kerry said. "In part because of his work, millions will one day walk again."
At Hopkins, research a few years ago demonstrated that stem cells could allow paralyzed mice and rats to do just that.
"This is one of the most difficult tasks you can ask a stem cell to do -- to rewire, to extend axons and to form new connections at great distances to restore function," said Kerr the neurologist. "We're clearly getting there."
Copyright 2018 The Associated Press. All rights reserved. This material may not be published, broadcast, rewritten or redistributed. We strive to uphold our values for every story published.