Kansas University officials have released a logo celebrating the 50th anniversary of the first basketball game played in Allen Fieldhouse.
Items emblazoned with the logo will be sold at KUstore.com starting Nov. 1 and available Nov. 8 at all KU retailers.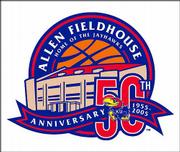 The logo, celebrating KU's 77-66 victory over Kansas State on March 1, 1955, is just part of a season-long recognition of the 50th anniversary of the building. A book on the history of the fieldhouse, written by Jeff Bollig and Doug Vance, is set for release in coming weeks.
The jerseys of Bill Bridges, Dave Robisch, Bud Stallworth, Darnell Valentine and Walter Wesley will be hung in the rafters during halftime of five games this season. Also, special celebrations are in store at the KU-KSU game March 2.
Copyright 2018 The Lawrence Journal-World. All rights reserved. This material may not be published, broadcast, rewritten or redistributed. We strive to uphold our values for every story published.