The scores weren't very good Monday at Alvamar Country Club.
The weather was gross.
Yet Kansas University women's golfer Annie Giangrosso was great during the Marilynn Smith Sunflower Invitational.
"I actually started to play a lot better when the rain started coming down harder," said Giangrosso, a freshman who after two rain-soaked rounds is tied for third place after posting a score of 153 -- one shot behind leaders Lisa Meshke and Louise Kenney of Iowa State.
Giangrosso, who is playing in just her third collegiate tournament, fired a 5-over-par 77 in her first round and a 76 in the second.
"The weather really made me concentrate on each and every shot, and I was forced to increase my focus," she said. "That's a strategy coach (Erin) O'Neil stresses to us every day."
Kansas leads the 11-team tourney with a score of 630, eight shots better than Iowa State and 14 ahead of third-place Kansas State.
O'Neil said Giangrosso's early collegiate success stemmed from her poise.
"It's surprising in a way, but not really. She's shown so much maturity in all aspects," O'Neil said.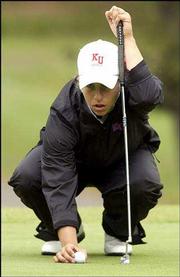 The former Class 6A state champ from Overland Park Aquinas nearly was spectacular Monday considering the bad conditions and challenging course. Perhaps even more importantly was the pressure of the Jayhawks' playing host to their first tournament in Lawrence in three years.
"Even last night I was almost sick to my stomach because everyone's parents were here," Giangrosso said. "And me being a freshman, I kind of feel like I have to prove myself. I just went out today, no-holds barred and just played my game."
A handful of other Jayhawks sit in the top 20 at the tourney, which will resume at 8:30 a.m. today.
Jayhawk junior Tiffany Woods is sixth with a score of 156, while sophomore Amanda Costner is tied for 10th with a two-round total of 159. Juniors Chelsey Pryor and Meredith Winkelmann round out KU's top-20 finishers in 18th and 20th place.
Woods said the presence of Jayhawk parents, family members and friends helped KU golfers deliver on their "second" home course. The Jayhawks normally practice on Alvamar's public course.
"It was nice for everyone to come out and give us a shot of support," said Woods, whose mother came to watch from Escondido, Calif. "I think there was a lot of motivation to play well and represent Lawrence in the right manner."
Copyright 2018 The Lawrence Journal-World. All rights reserved. This material may not be published, broadcast, rewritten or redistributed. We strive to uphold our values for every story published.