Kansas City, Mo. — Democratic vice presidential candidate John Edwards mocked President Bush's answer to a debate question, saying Monday the incumbent failed to recognize his mistakes.
In an appearance before several thousand cheering people here, Edwards noted the president's vague answer to the last audience question at Friday's debate in St. Louis -- on what specific mistakes Bush believes he made.
Edwards said he "listened very careful" but did not hear an answer from the president. "Come November," he said, "we're going to give him plenty of time to think about the mistakes he made."
Bush answered the question Friday, in part, by saying "I made some mistakes in appointing people, but I'm not going to name them."
Rich Chrismer, a GOP spokesman in Missouri, responded to Edwards' criticism by saying: "The president answered that question at the debate, and the voters will ultimately decide who they want as their commander in chief based on their record."
The president was asked nearly the same question at a prime-time news conference in April, when he similarly averted the inquiry.
"I don't want to sound like I have made no mistakes," the president said at the time. "I'm confident I have."
A beaming Edwards took the stage here Monday at Municipal Auditorium after an introduction from the Rev. Jesse Jackson, who told the crowd the Democratic ticket "represents morning time in America."
"It seems that darkness abounds," Jackson said. "These last four years we've found ourselves less secure after 9-11. We're more despised. We're more isolated. We have less port security, fewer police on the streets and AK-47s made legal again."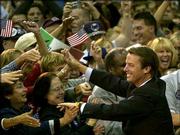 Copyright 2018 The Associated Press. All rights reserved. This material may not be published, broadcast, rewritten or redistributed. We strive to uphold our values for every story published.