KANSAS CITY, KAN. — Joe Nemechek probably only packed a small suitcase for his stay this weekend at the Kansas Speedway.
He might consider moving his North Carolina estate to the 1.5-mile tri-oval track.
Nemechek, who hadn't won a NASCAR Nextel Cup race in 55 starts, stole the show again Sunday at the Speedway when he completed a clean sweep of the weekend's races by blocking Ricky Rudd to win the Banquet 400.
Nemechek won the Bud Pole for Sunday's race and Saturday's Busch Series Mr. Goodcents 300.
"Hello again," said a grinning Nemechek, greeting media members for the third straight day. "This is very cool. The sweep at Kansas ... who would ever figure?"
Saturday, Nemechek overcame hard-charging friend Tony Stewart, who spun out with a lap and half to go, and held off Greg Biffle down the homestretch.
Sunday, Nemechek faced a charging Rudd down the last straightaway and won by a car length -- only 0.081 seconds.
"There at the end, I was trying to save gas, and here comes Ricky Rudd out of nowhere," said Nemechek.
"I was like, 'Holy moly, I had to get back on it.' He got beside me one time, but I wasn't going to let it happen.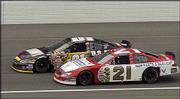 "Here it is the following day and it's going to happen to me again. But the car did what it needed to do at the proper time and we beat him to the start/finish line."
Rudd, who had only his second top-10 finish of the season, enjoyed Sunday's ending.
"The end of the race was pretty neat," said Rudd, who nearly lost control on a late restart but emerged from a group of cars to challenge Nemechek.
"I caught him somehow and I got to his door, but my car was slipping and I had to ease off so I didn't take us both out."
For the first time in the four races since the start of the Chase for the Championship began, a driver who was not among the top 10 drivers pulled out the victory.
"My gosh, we swept the weekend and hopefully we're going to be in press for doing it," said Nemechek, whose last victory came May 3, 2003, at Richmond. "The chase has got it's own story. Our goal is to win races. I don't know where we ended up in points, but the guys in the Chase have more to lose than I do."
Current points leader Kurt Busch was lucky he didn't lose his points lead when he spun out midway through the race. Busch went on to finish sixth and see his points lead over Dale Earnhardt Jr. increase to 29.
"We avoided a big pitfall today," Busch said. "To be able to come away out of that spin and not hit anything, I was very lucky to keep it on the racetrack and the damage was minimal. It is key to dodge an event like that today."
Earnhardt finished his fifth consecutive race in the top 10, taking ninth.
"We tested hard, and I was hoping it would pay off," he said. "It paid off. A top-10 finish, we'll take it."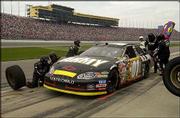 Earnhardt and Busch are the only Chase drivers who have finished in the top 10 in each of the last four races.
Nothing much happened this weekend for Jeff Gordon, a two-time Speedway winner. Gordon, who currently sits in third place in the points standings at 79 behind Busch, finished 13th after starting 30th.
"We just never could really get a handle on things this weekend," he said. "The car just never really gave me the feel that I was looking for. It looked like maybe we were going to pull a top 10 out of it. But we didn't lose too much in the points."
Nemechek, who has struggled most of this year, said a sweep was a dream come true.
"This is something every race car driver dreams of," he said. "I guess there was one other thing I didn't do, and that was getting the Busch pole. But what an incredible weekend."
Copyright 2018 The Lawrence Journal-World. All rights reserved. This material may not be published, broadcast, rewritten or redistributed. We strive to uphold our values for every story published.