Seattle — Betty Lennox and the Seattle Storm withstood a record-setting performance by Connecticut's Nykesha Sales and forced a decisive third game in the WNBA Finals.
Sales scored a WNBA Finals-record 32 points, but missed a three-pointer as time expired, giving Seattle a 67-65 win in Game 2 of the league finals Sunday night.
Game 3 will be Tuesday night in Seattle.
Sales and Lennox turned Game 2 into an individual showcase that came down to the final shot.
Sales set finals records for most points, most field goals in a game (14) and most points in a half (21). She made seven consecutive shots before hitting the side of the backboard with no time remaining.
But it was Lennox coming out on top, scoring a season-high 27 points for Seattle.
"I was just trying to put more buckets on the scoreboard than she was," Lennox said. "My mentality wasn't to force it, just take what the defense gave me."
Lennox hit 11 of 16 shots and took advantage of her matchup with rookie Lindsay Whalen. Seattle's other starters combined to shoot just 10-of-36.
"Two players that really weren't highlighted coming into the series just took over," Seattle coach Anne Donovan said. "One great play after another at both ends.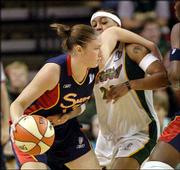 "It was fun to watch. I'm glad we're going to Game 3."
With Connecticut down 13 in the second half, Sales made sure the Sun would not fade away. She scored 15 points in the final 7:14 as Connecticut rallied to tie the game at 57 with 5:20 left.
"The ball was just going in for me, so I just tried to create a little more," Sales said.
The Sun, who never led, quickly fell behind 63-57 after a 6-0 run by Seattle. Lennox made two baskets and Vodichkova added another to give Seattle a six-point lead with less than four minutes left.
Sales answered, scoring five points in the final 90 seconds to help pull the Sun within two at 67-65. Lennox missed with 14 seconds left, and Seattle's Sheri Sam got the rebound and was tied up by Sales.
Seattle's Lauren Jackson corralled the ensuing jump ball, but Katie Douglas came up with a steal and called timeout with 3.1 seconds left.
On Connecticut's final chance, Sales had an open look on a three-pointer from the corner, but hit the side of the backboard.
Sales said she wasn't sure how much time was left and rushed the shot.
"I thought our last shot was in, but Nykesha got herself a little too deep," Connecticut coach Mike Thibault said. "We got the shot that we wanted."
Jackson added 15 points and 11 rebounds for Seattle, which shot 24-for-62. Sue Bird had 10 points.
Katie Douglas scored 14 for Connecticut, which won the series opener, 68-64.
The game drew an announced sellout crowd of 17,072 to KeyArena, despite the Seattle Seahawks playing the St. Louis Rams at Qwest Field across town.
The Storm led by five at halftime and tried to take control early in the second half.
With less than 19 minutes left, Connecticut's Wendy Palmer strained her right shoulder trying to tie up Vodichkova.
Palmer did not return, and without her presence in the paint, Jackson scored back-to-back baskets to key a 13-4 run, giving Seattle a 52-39 lead.
Palmer and Taj McWilliams-Franklin combined for just two points in Game 2 after teaming up for 26 points and 14 rebounds in Game 1.
"Palmer getting 16 points on us in Game 1 is a back breaker. You don't expect those players to step up and score like that," Donovan said.
Copyright 2018 The Associated Press. All rights reserved. This material may not be published, broadcast, rewritten or redistributed. We strive to uphold our values for every story published.