New York — With a weak back-to-school season behind them, the nation's retailers are focused on the holidays and what steps they need to take to get consumers excited about shopping again. That could mean some quick merchandise changes and more aggressive discounting than originally planned.
"The back-to-school period is not a bellwether for the holiday season, but there are a lot of lessons that you can take out of that period," said Michael Niemira, chief economist at The International Council of Shopping Centers. "That is what retailers need to focus on."
It's too late for merchants to make any dramatic changes in their holiday merchandise, but they can still tweak their collections and marketing plans. Struggling Sears, Roebuck and Co. decided last month to change its holiday decor, with oversized photographs of holiday gifts that Sears will begin placing in stores in mid-November.
September's sluggish sales figures, released to the public Thursday, offered retailers some ideas about what might click with shoppers and what probably wouldn't during the holidays.
Among the hot sellers for the early fall season were accessories including silk wraps, ponchos, brooches and other jewelry. But muted colors fared poorly, according to Marshal Cohen, senior industry analyst at NPD Group Inc., a market research company based in Port Washington, N.Y. And while preppy fashions did well, analysts said there's not a lot of must-have apparel to excite consumers this holiday season.
Clearly, retailers are in a different position from a year ago, when they had just come off a strong back-to-school season, boosted in part by tax rebates that served as incentives for consumers to spend freely. But stores struggled in October, November and the early part of December, only to be saved by a Christmas shopping spree.
This year, after enjoying robust sales from January through May, stores suffered four consecutive months of sluggish sales as the economy lost momentum.
The International Council of Shopping Centers-UBS sales tally of 71 retailers reported Thursday a modest 2.4 percent sales gain in September. The results were higher than August's 1.3 percent gain, but well off the average 6 percent increase of January through May. The tally is based on what the industry calls same-store sales, or sales at stores open at least a year, considered the best indicator of a retailer's performance.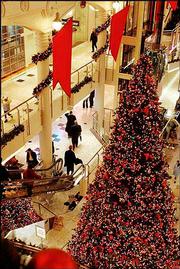 September's sales results sent mixed signals about how various sectors could fare for the holiday season. Teen retailers such as American Eagle Outfitters Inc. and Abercrombie & Fitch did well, and upscale stores such as Neiman Marcus Group Inc. and Nordstrom Inc. continued their winning streak, as the well-heeled consumer seems to be insulated from the economy's weakness.
But the low- to mid-price department stores and discounters including Wal-Mart Stores Inc. are struggling as rising gasoline prices and job insecurity limit their customers' spending on clothes and gifts.
The good news is that after seeing a slowdown in consumer spending in late spring, retailers decided not take any major risks and were approaching the holiday season with only slightly more inventory than a year ago, according to John Morris, an analyst at Harris Nesbitt.
Still, stores have to move out fall merchandise to make way for holiday goods, and Morris said retailers were giving larger discounts to clear selling floors.
More markdowns are expected. "I think you may see more discounting this year than we saw last year if the weak consumer spending trend continues," said Ken Perkins, an analyst at RetailMetrics LLC, a research firm in Cambridge, Mass
Copyright 2018 The Associated Press. All rights reserved. This material may not be published, broadcast, rewritten or redistributed. We strive to uphold our values for every story published.