Los Angeles — When it was over, after Jason Isringhausen struck out Alex Cora to put the St. Louis Cardinals in the NL championship series and eliminate the Los Angeles Dodgers, there was no immediate celebration by the winners, and the losers didn't walk back to their clubhouse.
Instead, the Dodgers went out on the field to greet their conquerers and shake their hands.
"That's the first time I've seen a team doing that to the other ballclub when they were the losing ballclub, and I think that was very special," St. Louis standout Albert Pujols said.
Pujols homered and drove in four runs Sunday night in the Cardinals' 6-2 victory, giving them a 3-1 win in the first-round NL playoff series and advancing them to a matchup with Atlanta or Houston starting Wednesday night in St. Louis.
"They're probably going to win the World Series," Dodgers closer Eric Gagne said. "We got beat by the world champions."
Not yet, but the Cardinals sure played like champions in advancing to the NLCS for the third time in five years, outscoring the Dodgers, 22-12.
Jeff Suppan settled down after a shaky start to pitch seven strong innings, and Pujols put the Cardinals ahead for good by hitting a tiebreaking three-run homer off loser Wilson Alvarez in the fourth inning.
"I think it was good sportsmanship, and I was glad to be a part of it. It's great for the game," Suppan said after the handshakes were over.
"Everybody just wanted to go out there and just wish them luck," Dodgers standout Adrian Beltre said.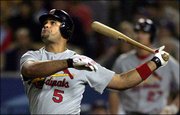 St. Louis, a major-league-best 105-57 during the regular season, is trying to become the first team with the top regular-season record to win the World Series since the 1998 New York Yankees.
"We showed a lot of heart, just like they did," said Cardinals' outfielder Larry Walker, who had two hits, walked twice and scored three runs in the finale.
"We have an opportunity, but we want to stay at an even keel -- except for this half hour here when we can act like a bunch of fools."
Pujols had two hits, a walk and four RBIs.
He went 5-of-15 with two homers in the series.
"Albert is a tremendous player, he does amazing things out there," Suppan said. "With him and everyone else, it's the best team I've been on."
As Pujols' towering fly ball sailed just over left fielder Jayson Werth into the lower left-field stands, the raucous crowd of 56,268 -- the largest in Dodger Stadium history -- went silent. Pujols, one of baseball's best hitters, delivered on a 3-1 pitch.
"From the way he swung at that pitch, something tells me he didn't hit a strike," Tracy said.
Scott Rolen, the on-deck hitter, went 0-for-12 in the series. He grounded out following Pujols' homer.
Suppan, who went 10-1 with a 3.55 earned-run average in 14 road starts this season, allowed two hits in seven innings and gave himself unexpected support at the plate -- he singled twice in three at-bats after going 4-of-57 during the season.
Copyright 2018 The Associated Press. All rights reserved. This material may not be published, broadcast, rewritten or redistributed. We strive to uphold our values for every story published.