Foxboro, Mass. — Bill Belichick let a rare smile crease his face before reminding his New England Patriots what their record winning streak meant.
"He said, 'Congratulations on the streak, great job. Now we've got to think about Seattle,'" safety Rodney Harrison said.
At least their dour coach, who downplayed the streak all season, gave the Patriots time to savor their NFL-record 19th straight win -- 24-10 over the winless Miami Dolphins on Sunday -- before they start preparing for their next game against the Seahawks.
"It doesn't mean anything right now because we are still in the middle of the season," cornerback Ty Law said in a very quiet locker room. "The fruit will taste a little bit sweeter if we can give ourselves an opportunity to play for another championship."
The Patriots (4-0) won with two touchdown passes by Tom Brady, who had his worst statistical start as a pro, and two turnovers by offensively inept Miami.
The Dolphins trailed 24-10 before reaching the New England one-yard line on their last series. But quarterback Jay Fiedler hurt his ribs and back on a 12-yard sack, and, two plays later, A.J. Feeley suffered a concussion as he threw a fourth-down incompletion and was hit by Rosevelt Colvin.
This Miami team is nothing like the one that no longer shares the record with five other teams. That one went 17-0 in 1972 and won its opener in 1973.
"As a player, you don't think about what (the Patriots) are doing," Miami defensive end Jason Taylor said. "We've got our own things to worry about."
The Dolphins fell to 0-5, matching their worst start as an expansion team in 1966, when they won their sixth game.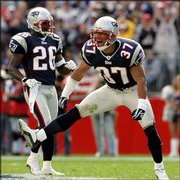 New England, which can match its franchise best 5-0 start Sunday, had shared the 18-game record with Chicago in 1933-34 and again in 1941-42; Miami in 1972-73; San Francisco in 1989-90; and Denver in 1997-98.
"They're some great teams, and it's nice to be a part of that," linebacker Tedy Bruschi said, but "during the season the only milestone that teams want is the Super Bowl."
The Dolphins' problems began before the game when placekicker Olindo Mare left the field on a cart because of an injured right calf. They continued until the end when Fiedler and Feeley were hurt.
"We felt good about moving the ball," said Fiedler, who had X-rays and didn't know if he would play next week, "but you look on the scoreboard, and you only see 10 points."
Miami added to its NFL-high 14 turnovers and scored just one touchdown to add to its total of two in the first four games. Only its defense, strong all year, kept the game somewhat competitive.
The Patriots played without injured receivers Deion Branch and Troy Brown, and another one, Bethel Johnson, was inactive.
But they led 10-0 on Brady's one-yard pass to Daniel Graham in the first quarter and Adam Vinatieri's 40-yard field goal early in the second.
The teams with the longest winning streaks in NFL history, including playoff victories (first-second year in parentheses):19 -- New England Patriots (15-4), 2003-0418 -- Denver Broncos (5-13), 1997-98.18 -- San Francisco 49ers (8-10), 1989-90.18 -- Miami Dolphins (17-1), 1972-73.18 -- Chicago Bears (7-11), 1941-42.18 -- Chicago Bears (5-13) 1933-34.
Still, Brady finished at 7-for-19 for 76 yards and an interception.
"We didn't do the things we set out to do," tackle Matt Light said of the offense. "Defense helped us out a lot."
Rams 33, Seahawks 27, OT
Seattle -- Never count out Marc Bulger and the quick-strike Rams. Bulger threw a 52-yard touchdown pass to Shaun McDonald less than three minutes into overtime, ending Seattle's 10-game home winning streak. Bulger led a 17-point rally by throwing two TD passes in the final 5:34 of regulation. Jeff Wilkins kicked a 36-yard field goal with eight seconds left to force overtime. The Rams improved to 3-2. The Seahawks (3-1) appeared to have things in control, leading 24-7 at halftime and 27-10 midway through the third period.
Jets 16, Bills 14
East Rutherford, N.J. -- Doug Brien kicked a 38-yard field goal with 58 seconds remaining to move the Jets to 4-0 for the second time in franchise history. Chad Pennington went 31-of-42 for 304 yards with a touchdown and an interception, but his biggest plays came at the end, when the Jets had to rally from a 14-13 deficit. Pennington went 7-of-8 for 51 yards, taking the Jets 60 yards in five minutes to set up the winning score. Buffalo (0-4) had one final shot from its 48 with two seconds left, but Drew Bledsoe was intercepted by Terrell Buckley near the goal line.
Lions 17, Falcons 10
Atlanta -- The Lions finally scored a touchdown rushing and harassed Michael Vick into three turnovers, preventing the Falcons from going 5-0 for the first time in franchise history. Joey Harrington threw a 39-yard touchdown pass to Az-Zahir Hakim on fourth down, and Artose Pinner scored on a one-yard dive to put the Lions (3-1) ahead for good. Detroit has won both its road games this season after setting an NFL record by losing 24 straight away from home over the previous three years.
Steelers 34, Browns 23
Pittsburgh -- Ben Roethlisberger, becoming more comfortable and more productive with each start, confused Cleveland (2-3) with his running and creativity, and the Steelers won their third in a row behind the rookie quarterback. Duce Staley complemented Roethlisberger by running for 117 yards, his third consecutive 100-yard game, and scoring on a 25-yard run following rookie Richard Colclough's 59-yard return of the opening kickoff. Roethlisberger is only the sixth rookie quarterback to win his first three starts since the NFL merger in 1970.
Colts 35, Raiders 14
Indianapolis -- Peyton Manning completed 16 of 26 passes for 198 yards and three touchdowns, while Edgerrin James ran for 136 yards and a score to lead the Colts to their fourth straight win. Oakland (2-3) fell to its 12th consecutive road loss. Manning threw three TDs in the first two quarters, giving him eight in the first half in the Colts' (4-1) two home games this season. For the second time in four weeks, Oakland's Jerry Rice failed to catch a pass.
Giants 26, Cowboys 10
Irving, Texas -- Five games into the season, the Giants already matched last year's win total. Tiki Barber ran for 122 yards and a touchdown, and Steve Christie kicked four field goals to give the Giants (4-1) their fourth win in a row. Showing the toughness and discipline demanded by new coach Tom Coughlin, New York overcame a slow start by taking advantage of mistakes by Dallas (2-2) and making some breaks for itself.
Vikings 34, Texans 28, OT
Houston -- The upstart Texans proved they're never out of any game. The Vikings and quarterback Daunte Culpepper showed them what it takes to close one out. Culpepper threw five touchdown passes, the last a 50-yarder to Marcus Robinson on the Vikings' second possession in overtime. The victory was a huge relief for the Vikings (3-1), who almost let it get away after building a 21-0 lead in the third quarter.
Buccaneers 20, Saints 17
New Orleans -- The Buccaneers hoped the son of a former Super Bowl quarterback would help them get their first victory. They got their wish. But it was not Chris Simms, son of 1987 Super Bowl MVP Phil Simms, who led the Bucs (1-4) to their first victory of the season. Simms, making his first NFL start, hurt his throwing shoulder in the first quarter and was replaced by Brian Griese, son of Bob Griese, who played in three Super Bowls. Griese went 16-of-19 for 194 yards and the decisive touchdown.
Chargers 34, Jaguars 21
San Diego -- The Chargers looked sharp in their powder-blue throwback jerseys and white helmets from the 1960s -- and played sharp, too. Drew Brees, the quarterback the front office didn't want, threw two touchdown passes to Antonio Gates, a tight end who played basketball at Kent State.
49ers 31, Cardinals 28, OT
San Francisco -- Tim Rattay threw two touchdown passes and got two two-point conversions in the final 4:35, and Todd Peterson kicked a 32-yard field goal with 11:37 left in overtime for the 49ers' first victory of the season. Brandon Lloyd made a diving 23-yard TD catch with 1:07 left in regulation, then wrestled the ball away from two defenders for the tying conversion.
Broncos 20, Panthers 17
Denver -- Backup Reuben Droughns ran for 193 yards for Denver (4-1), and Jake Plummer threw a 39-yard pass to Ashley Lelie for the winning points. Julius Peppers had a 101-yard interception return for Carolina (1-3), the longest interception return in NFL history not to result in a touchdown. The 283-pound lineman caught it four yards deep in his end zone.
Ravens 17, Redskins 10
Landover, Md. -- With both offenses going nowhere, all the Ravens needed was a few big plays by safety Ed Reed. Reed scored a touchdown on a safety blitz, stopped Clinton Portis on a third-and-one and sprung B.J. Sams for a 78-yard punt return, all in a 21/2-minute span in the third quarter. The Ravens scored 14 points without their struggling offense taking the field, and that was more than enough to rally from a 10-0 halftime deficit in a victory over punchless Washington.
Copyright 2018 The Associated Press. All rights reserved. This material may not be published, broadcast, rewritten or redistributed. We strive to uphold our values for every story published.