Welcome to our online chat with Nancy Boyda, Democratic candidate for the 2nd Congressional District.
The chat took place at 1 p.m. Monday, Oct. 11, and is now closed, but you can read the full transcript on this page.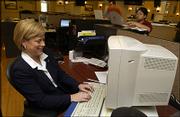 Moderator: Welcome to our online chat with Nancy Boyda. We'll start our chat with her in a few minutes. Thanks for joining us this afternoon.
Susanne, Eudora: What will be the first bill you will introduce as our Congresswoman?
Nancy Boyda: Hi Susanne,
I believe I will be the only member of Congress who has worked in the pharmaceutical industry and I plan to put that expertise to work right away.
My first bill will bring down the price of prescription drugs by allowing Medicare and Medicaid to negotiate directly with the drug companies.
Clearly, increasing drug prices are the fastest growing part of healthcare. It really hurts our seniors, but also hurts our families and businesses as well. We must make this a priority in Congress.
Thanks for your question!
I look forward to serving you in Congress.
Nancy
John, Lawrence: You've been endorsed by Planned Parenthood and EMILY's List. Please tell us, specifically, how committed you are to their positions on partial-birth abortion and tax-payer-funded abortion?
Nancy Boyda: Hi John,
Thanks for the question. I'm happy to clarify things.
1) I have told EMILY's List I would support a ban on partial birth abortions if there were a provision for the life and health of the mother. I have lost some funding from women's groups because of my position.
2) It is my understanding that tax-payer funds are not used for abortions, again except in the life/health of the mother. I support that.
Again, thanks for your question. And, I also look forward to serving you in Congress, too!
Take care,
Nancy
Louise, Lawrence: What do you think are the current critical issues in healthcare and what policies/solutions would you support?
Nancy Boyda: Hi Louise!
Let's look at two areas, drug prices and access to affordable healthcare in general.
I'll try to be brief, but it's hard. This is probably the most complex issue we're facing right now.
Drug prices, wow. There are two things we can do to bring down the prices NOW. It's such a frustration to me that Congress hasn't done it already.
First, as I said earlier, ALLOW MEDICARE AND MEDICAID TO NEGOTIATE FOR BEST PRICES!!!!
Second, restrict the advertising drug companies can do. Before 1987, advertising was allowed only in professional journals. I believe the advertising has only contributed to the overmedication problem and the costs are astounding.
As much is spent on advertising and promotion as on R&D;!!! Of course we want the drug companies to have money for R&D; and of course we want them to make a good profit too. But things have gotten out of balance and it's hurting everyone--except the drug companies!!
Access to affordable healthcare has become a tremendous problem for our families, seniors and businesses. So much so that I believe Congress WILL do something about it during this next session of Congress. I believe it will be a combination of private health insurance and the Medicare-based programs.
We already spend 15 percent of our GDP on healthcare in the country, so the dollars are already being spent! We now need to find solutions that will use those dollars more effectively.
Many thanks for the question,
Nancy
Marcus, Paola: What can you do to help out college students who are dealing with rising tuitions? Also, what are your plans for keeping our high schools and grade schools funded?
Nancy Boyda: Hello Marcus!
Rising tuitions are a real problem for our students and their families. I don't believe Congress should address the prices (that's set by states, communities, and private institutions) but CONGRESS CERTAINLY CAN AND MUST address the assistance students receive!!! Higher education has been the path to good job opportunities and it must not be limited to only those who come from a background of economic security.
Have you noticed that college assistance is going down at the same (time) jobs are going overseas, at the same time health insurance is skyrocketing, and at the same time energy prices are soaring? Are you feeling that middle class squeeze? I hear about it all over the district and I'll be fighting in Congress to keep the path to the American Dream open!!! Promise.
School funding ... You probably already know, but Ryun is one of 18 in Congress who have THE WORST PUBLIC SCHOOL VOTING RECORD. Really. He's a big private school voucher guy -- voted 7 of 7 times for private school vouchers. The disturbing part is he won't tell us about it!!! When pressed, he's told 2 newspapers that he's for vouchers but only if the money stays in public schools!!! Jim, that's just not true and you know it!!!
I think vouchers will drain away needed funds from our public schools and I do NOT support them.
Last April, Ryun put out a press release saying our Kansas schools are OVERFUNDED by $16 MILLION!!! You can read about it in an editorial in the LJW titled, Disappointing miscue.
You want to keep our schools funded? I'll be out there fighting hard for public schools. You can certainly help by voting for a new Congresswoman and asking your friends and neighbors to do the same. Jim Ryun is not a friend to PUBLIC schools.
Publicly educated myself (and all our kids!),
Nancy
Laura, Topeka: Which candidate will you vote for in the 2004 presidential election and why?
Nancy Boyda: Hi Laura,
(That was my grandmother's name!)
I'm voting for Kerry. Please keep in mind, I'll be supporting whoever wins and is commander in chief. We must be successful in the war in Iraq and the War on Terror.
Thanks!
Nancy
Moderator: This will be our last question for this chat.
Michael, Lawrence: Did you live in the 2nd District prior to your decision to run for Congress here? If not, how can we know that you're in touch with the district's concerns?
Nancy Boyda: Hi Michael,
(My nephew's name!)
My husband Steve has worked in Manhattan for 5 years. We moved to Topeka 13 months ago and have spent almost every waking moment listening to and talking with the good people of the KS 2nd.
Let me tell you what I've heard OVER AND OVER ... WE WANT LEADERSHIP!!!!! Jim is nice guy (or at least people thought so before the Osama ad!!) but he has NOT taken the leadership role expected of a Congressman.
I've spent the last 13-14 months talking with our community leaders, our hospitals, our schools, our seniors, certainly OUR BUSINESSES and THEY are the ones telling ME it's time for change!!!
Jim was at a golf tournament in Pittsburg this summer. The Pittsburg Sun covered it and quoted Jim as saying he didn't know of any burning concerns in the district and he thought people were pretty content. Wow, what an amazing thing to say to people in the most economically depressed part of the district. Jim, people DO have burning issues ... jobs, healthcare, our schools and our very national security.
I'm not worried, Michael, the good people of Kansas will make the right choice about who is in touch with their concerns!
This has been good. WE NEED TO HAVE OPEN DIALOGUE ABOUT THE ISSUES!!!
Hope to meet you all soon and I certainly look forward to serving you in Congress!!!
Take care,
Nancy
Moderator: Well, that wraps up our chat with Nancy Boyda. We'd like to thank our readers and Nancy Boyda for participating.
Copyright 2018 The Lawrence Journal-World. All rights reserved. This material may not be published, broadcast, rewritten or redistributed. We strive to uphold our values for every story published.