Marion, Ark. — Investigators on Sunday combed through a patch of grass near an interstate highway, searching for clues to why a tour bus headed from Chicago to Mississippi drifted off the pavement and overturned, killing 14 people.
Fifteen passengers remained hospitalized in Little Rock and Memphis, Tenn., many in critical condition with injuries that included collapsed lungs, broken hips and head wounds they suffered when the bus wandered off Interstate 55 in northeastern Arkansas. The passengers were family and friends of the tour bus operator.
A reconstruction of the accident was under way, and officials planned to create computer models of the crash, but they cautioned that a final police report would not be ready for a week. Findings from the National Transportation Safety Board report would take longer.
"There is not going to be a magic answer provided to you today to the question, 'How did this crash happen?"' Arkansas State Police spokesman Bill Sadler said.
Authorities said the probe would include determining whether the driver fell asleep, as well as reviewing the mechanical condition of the bus and whether it conformed to federal regulations.
They also want to know if weather or road conditions contributed to the wreck and why the bus's roof tore off during impact.
Police initially reported that 15 people had died. Investigators worked through the night to identify the victims and on Sunday revised that number to 14 dead. Most passengers were asleep when the accident happened before dawn.
On Sunday, the wreckage had been removed from the side of the highway. All that remained at the crash site was yellow police tape. State troopers were working to catalog passengers' personal belongings that had littered the ground Saturday.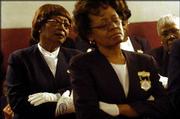 Police said they interviewed two to three motorists who were driving behind the bus when the crash happened, as well as some survivors.
Driver Herbert Walters, 67, the brother of the bus company owner, died in the crash.
Also killed were Sandra Clark, 62, John Hawkins, 49, Fannie Jacobs, 68, Charlie B. Lowe, 75, Maxie Lyons, 64, Mamie McCormick, 69, Genise Meekins, 50, William Morris, 58, Derrick Poole, 37, Cornelia Roseborough, 76, Joyce Drain, 64, Euzelia Vaughn, 57, and Walters' sister-in-law Mareen Walters, 67.
Copyright 2018 The Associated Press. All rights reserved. This material may not be published, broadcast, rewritten or redistributed. We strive to uphold our values for every story published.