Oh no, not again.
Not another blown second-half lead. Not another fourth-quarter breakdown. Not another narrow defeat.
Nope, not again.
This time Kansas University's football team didn't follow the dismaying script of the last three weeks. The Jayhawks blew a lead again, but this time they staged a fourth-quarter rally. This time Kansas climbed over that intangible hump. This time the Jayhawks threw the purple monkey off their backs.
Kansas 31, Kansas State 28.
How sweet it was for the KU faithful, who had suffered 11 straight Sunflower Showdown defeats, most of them humiliating blowouts.
How sweet it was for the KU students, who spoiled the best-laid plans of athletic department officials to drop the goalposts the minute the game ended -- a strategy that had been in place since the posts went down after last season's win over Missouri.
This time the goal-post razing crews wisely abandoned their, uh, posts, and eventually the yellow aluminum poles -- most of them anyway -- were hauled off to their traditional resting place at the bottom of Potter Lake.
About 10 minutes after the game, one upright was lugged by eight or 10 KU students over to the K-State band in the northwest corner of the bowl and dumped unceremoniously on the track in front of them.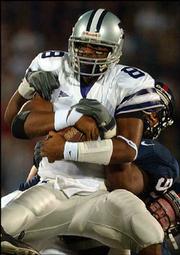 Still, you have to wonder how many of those delirious postgame Kansas fans sadly thought it was deja vu all over again when K-State quarterback Dylan Meier silenced them with a stunning 86-yard TD pass to Tony Madison to give the 'Cats a 21-17 lead less than two minutes into the fourth quarter.
It was deja vu of the 52-yard fourth-quarter screen pass that led to Northwestern's 20-17 come-from-behind victory three weeks ago.
It was deja vu of the 70-yard fourth-quarter touchdown scamper two weeks ago by Texas Tech's Taureen Henderson that gave the Raiders a 31-30 win after Tech had trailed 30-5 late in the first half.
It was deja vu of the second-half Nebraska touchdown last week that enabled the Cornhuskers to escape with a 14-8 triumph.
For the fourth straight week, the Jayhawks had fallen behind, but there was one big difference. For the fourth straight week, coach Mark Mangino did not stand pat at quarterback. He benched Adam Barmann in favor of Jason Swanson, a junior-college transfer who had thrown only four passes in part-time duty in two games.
Right away, Swanson looked more like a TV dinner than a college quarterback. Swanson was shaky. His passes were errant and, worse, he waited too long to throw with about 11 1/2 minutes remaining, was sacked and fumbled the ball away.
Kansas avoided disaster, however, when Jermial Ashley blocked Joe Rheem's 49-yard field-goal attempt. KU took over again. Surely Mangino would go back to Barmann. But, no, Swanson ran onto the field again and, minutes later, threw a pass to Mark Simmons, who made a one-handed catch in the end zone.
Drum roll, please. For the first time in four weeks, Kansas had retaliated, and darned if the Jayhawks didn't tack on the clincher two minutes later when John (Mr. Do-It-All) Randle scrambled 41 yards on a tackle-busting gallop into the end zone.
Yes, Kansas State did score again to add to the tension, but for the first time this season the Jayhawks did not lose a close game. This time they won a nail-biter and if, as they say, they all even out, the football gods owe KU two more this season.
Two more wins wouldn't be enough to assure the magic bowl-eligibility number of six, but the Jayhawks (3-3) have five games remaining. Who's to say they can't win three of them?
Six wins is not improbable now. KU conceivably could go into its season finale at Missouri with a 5-5 record -- a possibility that would have been remote if the Jayhawks had fallen to Kansas State.
Saturday night's win meant so much. K-State's dominance in the series is over. The Jayhawks proved they can win in the fourth quarter. And they provided at least circumstantial evidence the corner that once seemed so far away is closer to being turned.
Maybe best of all, though, is that with no game scheduled next Saturday the Jayhawks will have two weeks to enjoy this one.
Copyright 2018 The Lawrence Journal-World. All rights reserved. This material may not be published, broadcast, rewritten or redistributed. We strive to uphold our values for every story published.