KANSAS CITY, KAN. — Joe Nemechek has been anything but average this weekend at the Kansas Speedway.
The veteran driver had been close to success all season in NASCAR's Busch and Nextel Cup series, but he certainly captured it Saturday at the 1.5-mile tri-oval track in Wyandotte County by winning the Mr. Goodcents 300 after a nail-biting, come-from-behind finish.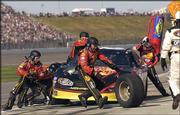 "That was wild there at the end," said a smiling Nemechek, who won after passing Tony Stewart when the two were involved in a crash with 11/2 laps to go in the 200-lap race, and then overcame a furious charge from Greg Biffle after a restart on the 204th lap.
Nemechek's .041-second win -- his 16th in the Busch Series -- was the closest margin of victory this season.
"The first thing I gotta do is apologize to Tony Stewart," said Nemechek, who kept his friend from gaining his first-ever Busch victory. "I think that was just a racin' deal. Man, I don't ever turn people on purpose."
It appeared Nemechek's No. 87 Cellular One Chevy ran smack into the back of Stewart's car, but Biffle said that was not the case.
"The (No.) 81 and Joe got together going down the backstretch, and it looked like Tony was kind of using his mirror then and trying to block Joe and got turned into the fence," he said.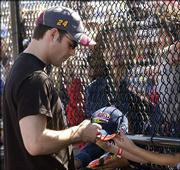 "I've been on the giving and receiving end of that part of it."
So has Nemechek -- who will start today's Banquet 400 in front after winning the pole position Friday -- but he still wanted to make sure Stewart understood he was sorry, even if it wasn't his fault.
"It was a tough day at the races. Tony Stewart is a great friend of mine and a buddy of my son, John Hunter," Nemechek said. "Man, I just hate when stuff like that happens."
For the majority of the afternoon it looked like Stewart -- who has won a Winston Cup championship and an Indy Racing League title, but never a Busch race -- would capture his first as he led 115 laps and continued to pull away in the final laps.
But then the race's seventh caution on lap No. 193 created a restart that allowed Nemechek to catch up.
Stewart tried to block Nemechek up high on the backstretch, but then the two touched and created the spin-out that took Stewart out of the race.
With a win today, Nemechek could earn a Kansas Speedway sweep.
"At Kansas your car has gotta drive good, and gotta drive good for a long period of time," he said. "I think that's going to be the case (today) -- whoever's car runs good in a long run is going to win this race."
Copyright 2018 The Associated Press. All rights reserved. This material may not be published, broadcast, rewritten or redistributed. We strive to uphold our values for every story published.